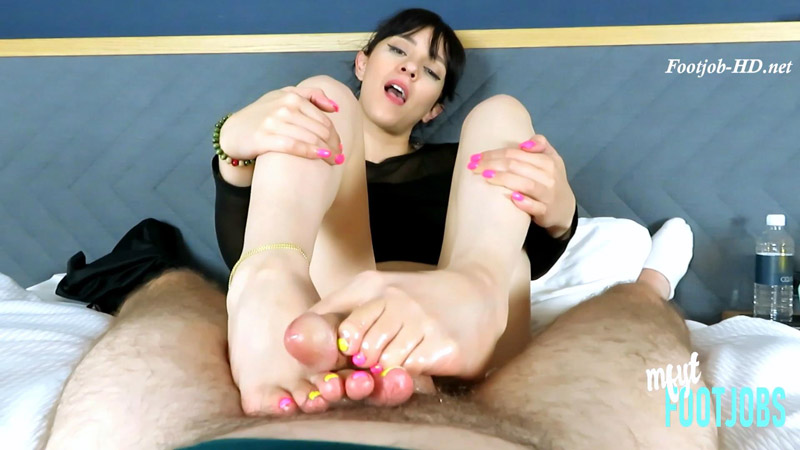 Post Workout Footjob for @CFM_HD – MFYT FootJobs
This one here sure knows how to capture my essence when I am getting my fetcon body in check. In the creepiest way! It is okay, I found it sort of adorable he was so obsessed with me he had to follow me to the gym and lurk around pillars like a little goof ball and film me get my feet all hot and sweaty during my workout. Not to mention I was wearing my favorite outfit to work out in, as little as possible… After I got off of my bike I walked over to do some quick warm down moves on my yoga mat. Had to take my shoes and socks off of course, as my feet were too hot and sweaty from all the cycling I just did. I did some nice single leg stretches, some planking, and back stretching, had to get my muscles nice and loose again from all the work I just did. Seemed to do the job, as when I made it known that I knew this little creeper was watching me, I invited him upstairs to QUIT being a creeper from a far, and have some actual fun.
Fast forward to us getting upstairs, I have him comfortable, and sprawled out in front of me. I can not help but realize he is clearly excited by the throbbing boner emerging from his shorts. I pull them off and expose his cock to my warm hot feet that I just made him massage before we started filming. The second I got oil on these pretty perfect toes of mine, and rubbed my smooth oily soles on his cock, I could tell from my view that he was going to cum pretty quickly. So I worked him slow, and let him enjoy every feeling of my soft soles that he was gushing over trying not to get caught earlier. Using my tight toe grips and long strokes with my size 8.5 feet I made him erupt a nice big cum load all over these waiting toes.
Size: 1.2 GiB Duration: 12 min Resolution: 1920×1080 Format video: MP4

Download link:
Post Workout Footjob for @CFM_HD – MFYT FootJobs.mp4