FOOTJOB IN THE CAR It's morning (or afternoon is the same, the important thing is that there is the light of the sun). Outfit You wear tan 8/10 DEN pantyhose, a white blouse and the skirt and the shoes that you wear in the "311 I rev your engine" (black skirt and black high heels).
First Scene You're a business woman and you're seated on a bench (like the bus stop bench or similar doesn't matter) waiting for a bus to go home crossing your legs and dangling your feet. (starting from a frontal view of the whole figure, and then focused on your feet and crossed legs). After a few seconds, you realize that the bus will not arrive. So you start walking on the street. (whole figure while you're walking and a tracking shot from your feet up to your ass). A taxi driver in a car see you and pull over to ask if you want a ride. The destination is far and you have high heels, so you say yes. You enter in the car.
Second Scene You cross your legs. (camera like in the video "209 Cum on my pink pantyhose", from the point of view of the driver.) He can't stop looking at your pantyhose and you understand that you probably have a chance to get a free ride. So you start moving your feet, showing the end of them (zoom on the reinforced part of the pantyose near the toes with a little different color). You ask if is a problem if you put off your shoes because you have tired feet. He obviously say yes.(shot of your nyloned feet ). You put you nyloned feet on the dashboard. He's trying to drive, but it's note easy since you are drivining him crazy. In fact you adjust your pantyhose pulling up the skirt. He absolutely want to touch your legs. He parks the car with an excuse and while he is taking an item from the glove box, he touch lightly your hosed leg. You recognize that is the right moment to tell him that you haven't money to pay the ride, but you have noticed that he likes your feet and your legs. So you totalyy pull up your skirt, showing you beautiful nyloned legs. You say him to feel free to touch them and your feet.
Third Scene He starts touching your legs and your feet. You put them on his legs. He starts a feet massage, but accidentally your feet goes over his dick. When you feel his dick getting bigger, you start an uforgettable footjob. (camera like in the video "209 Cum on my pink pantyhose", from the point of view of the driver.) With one foot, with both, in different position (you are the best, so you perfectly know how to do that).
Four Scene He is nearly to cum, when you stop him. You say that you need this pantyhose for the next working day, but you have the solution. You take from your bag a black pair of pantyhose (8/10 DEN), put off the tan (putting off also your skin)and wear the black one. He starts touching your nyloned ass and legs, while you give him a brief handjob with the tan pair of panthyose. The he first putshis dick between your legs, than puts it between your calf and your legs. You scrape it. He is so excited, but he also definitely wants your feet. So you continue the footjob(like before) until he cum on your black hosed feet and legs (show me the cummed feet and legs).
You now have 'paid' your ride and you wear again the skirt and the shoes despite of the cum on the feet. The driver goes out of the car to open your door (camera from the side of the car focused on you and then of the cummed feet adn pantyhose) and then you go out of the car. Camera from the back while you're going away, when you give him the last present. You pull up your skirt showing your nyloned ass for the last time.
Size: 1.5 GiB Duration: 27 min Resolution: 1920×1080 Format video: MP4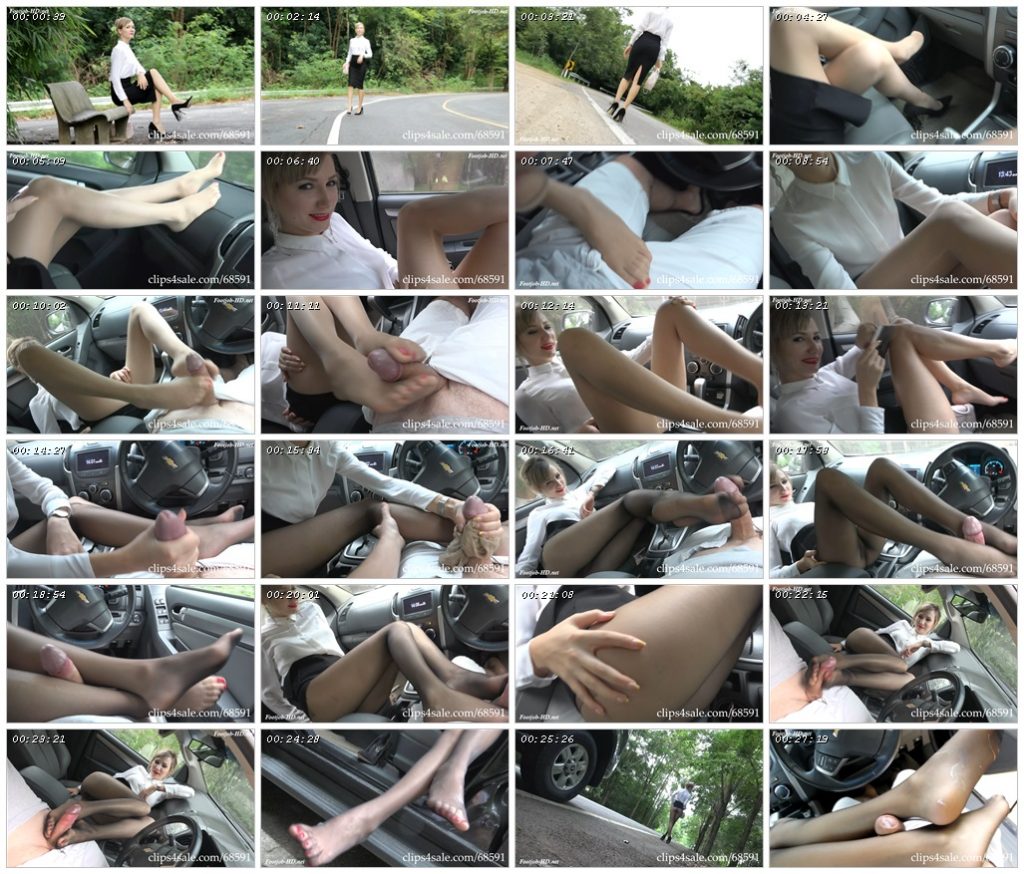 Download link:
The best Footjob ever – Angel The Dreamgirl.mp4
Mirror link (Please use this link if the main link does not work):
The best Footjob ever – Angel The Dreamgirl.mp4