359 Teacher makes schoolboy foot fetish fantasy come true… – Angel The Dreamgirl 1080p
359 Teacher makes schoolboy foot fetish fantasy come true… – Angel The Dreamgirl
Custom Clip Request
Day 1
The schoolboy is at his desk working, but finding it difficult to concentrate as his teacher is sitting in his view, and he has a crush on her. He keeps looking up and to the left and stares at her, she's busy working and writing something. Today she's wearing a blue dress (like the one in you will cum when I say), tan pantyhose, red lipstick and red heels (you're my favourite student). She gets up and goes to the blackboard/whiteboard to write something, with her back to the boy. He looks up stares at her, noticing her tight ass and long legs, down to her shoes. Suddenly he looks up as the teacher catches him, and she asks him what he's doing. He says nothing Mrs, she has knowing smile. She has noticed the last couple of weeks that he keeps staring at her, especially her feet. She tells him to get back to work, end of scene, all schoolboy POV
Day 2
The schoolboy is at his same desk, teacher is working at her's. Schoolboy again is distracted, and keeps looking at the teacher. Today she's wearing grey pencil skirt (first training my secretary), white blouse, white stockings and grey heels. She's sitting with her right leg crossed over her left. This time when the schoolboy is looking at her legs and shoes, he looks up and notices the teacher staring right at him, smiling. This time she doesn't say anything, and smiles and looks down at her work. The schoolboy notices now that her right foot is moving is up and then her shoe is coming loose, she's shoe dangling. This gets him excited. Then the teacher gets up holding a pen and walks to the schoolboy. She asks if he's ok, he answers yes. She turns and accidentally drops her pen. She kneels down to pick it up, with a full view of her ass in that tight skirt. He gets aroused. She goes back to her desk, smiling seductively and sits down. End of scene, all from boy pov.
Day 3
The schoolboy is sitting at his desk waiting for lesson to start, he then hears the teacher walking in from his right in her black patent leather heels. He looks up from his desk and sees teacher in tight pencil skirt (my wet pussy in tightly pencil skirt), red lipstick, nude or tan pantyhose and black heels (Tipsyen business woman). She's about to sit at her desk when she stops and turns around and asks the schoolboy to change desks, today he's sitting in front of teacher. He gets up and moves to his desk, when he sits down she then sits in front of him. Near the end of the lesson she accidentally drops her pen which goes under her desk and asks the boy to pick it up, the boy gets on his knees and and sees that teacher is sitting cross legged, left over right, shoe dangling from left foot. The shoe then falls off and shows her left pantyhosed foot, she's wearing red toe nail polish. He gets closer and closer then the school bell rings. End of lesson. He quickly picks up the pen and gives it back to teacher. She says thanks and puts it in her mouth seductively. He stares and then she tells him class is over.
Later in the day
This can start from boy POV. Schoolboy is in hallway when the teacher walks past, she asks him to come to her office. As they enter, she asks him to sit down, she sits in front of him. Its then the boy notices she's wearing different shoes (the red strappy shoes in creampie in bad nurse), now he can see the toes peeping through. She asks why he's not concentrating in class, when the boy doesn't answer she asks if he has a foot fetish? He nods his head. The teacher smiles seductively. She asks him to move closer to her, he moves himself and his chair, she then starts moving her foot slowly up the inside of his leg and rests her foot on his croctch. He's hard. She then gets up, pushes his legs apart like a stripper in a lapdance club, and starts grinding her arse against his cock. Before continuing, she gets up, turns around, and removes her skirt. She then grinds hard with her pantyhose covered arse. This goes on for 20 – 30 secs. Camera angle switches to side on, boy on left, teacher on right, she is still grinding for maybe 10 secs. She then stops and asks him if he'd like a footjob? He nods yes furiously, she says fine, but first he has to take all his clothes off except his underwear. She then tells him he needs to get on his knees. She sits down. She asks him to kiss her shoes, he starts.
She smiles, enjoying this boy doing what she says. Shot changes back to boy POV, you see her exposed pantyhose toes. She asks him to undo her shoes, then kiss and lick her nylon feet. Once she's had enough she asks him to kiss her up leg towards her pussy. As he gets to her pussy, she tells him to lick it. He's not done this before, so she gently tells him what to do. She starts moaning. Camera switches angle to close side on, both boy and teacher should be in the shot. As she gets close to climax she pushes his head into her pussy, then orgasms. She's pleased with him, tells him he's been a good boy. She tells him to lie down for teacher. Shot changes to boy pov, teacher sitting in a chair in between boys legs, looking down. She places left foot on his right leg and right foot on left leg, slowly makes her way up. She rubs his cock through his underwear, if he's wearing boxer shorts maybe she can clip a foot through a gap. Eventually she tells him to take his underwear off. She lightly touches it one foot at a time, teasing him. She then footjobs him, varying technique, until he cums on her feet. She tells him she enjoyed that, not to tell anyone, and that she'll arrange another meeting soon.
Size: 1.8 GiB Duration: 25 min Resolution: 1920×1080 Format video: MP4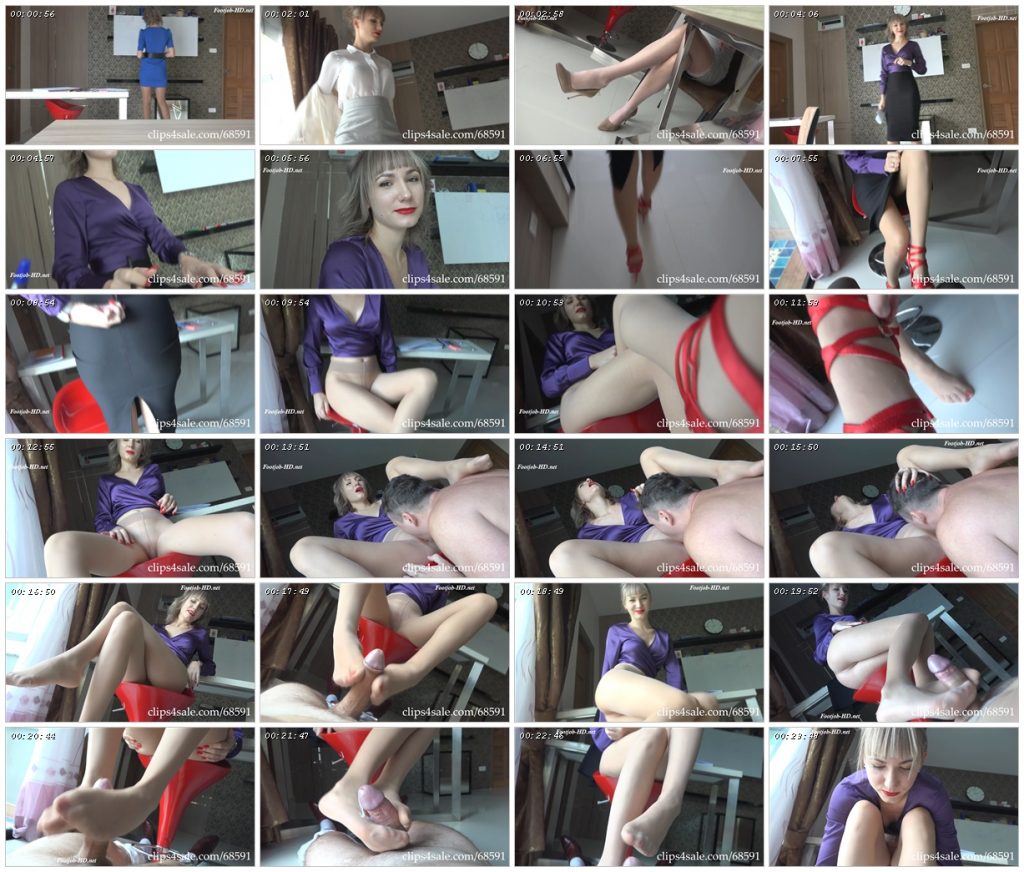 Download link:
359 Teacher makes schoolboy foot fetish fantasy come true… – Angel The Dreamgirl.mp4