Mistress Gaia – Footjob Week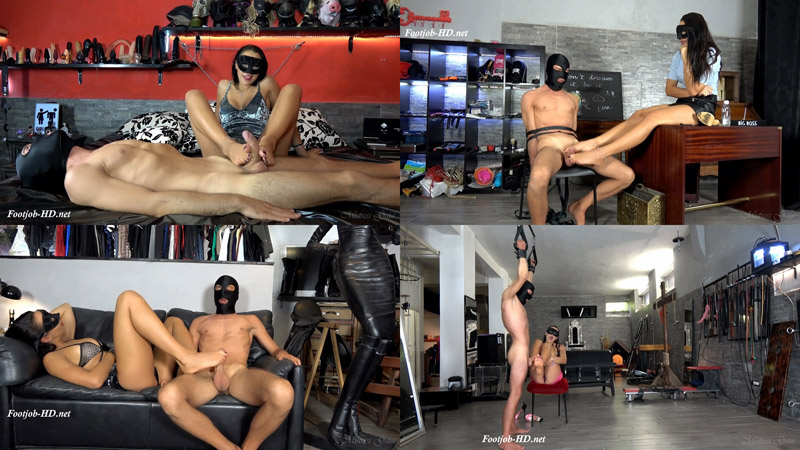 Mistress Gaia – Footjob Week
At the beginning of each video, she starts showing the date and time from her phone, demonstrating that the footjobs are performed on six consecutive days. For her clothing I want to give her full choise, except Wednesday, for the remaining alternate videos of various styles, the slave Enea always completely naked.
Monday: You are on the bed, the slave perpendicular to her, feet towards the wall. She starts with a handjob and reveals her plan to masturbate him every day of the week with her gorgeous feet. She masturbates him a bit with 10 fingers, then with her big toes and finally makes him cum with the chapel between the index and the big toe of her right foot.
Tuesday: She tied her slave to a chair placed near her desk. After showing the day to the camera she sits on the desk, drops her shoes, and puts a foot in her slave's face and orders him to lick him. With the other she starts touching his cock. Then she starts jerking him off with both feet until he cums.
Wednesday: She dressed as a sexy doctor. Wednesday is the day of the medical examinations, so you will be placed in the location of her medical clinic videos. Slave immobilized on the couch and she gives him a footjob sitting next to him.
Thursday: Today she feels benevolent, she makes her slave sit next to her on the sofa, puts her feet in his face and orders him to lick them, after a while she starts jerking him with her feet until he cums with 10 suspended toes masturbating him in a way very fast and aggressive.
Friday: Friday is a special day and therefore she will reserve a footjob / handjob for her slave. She will masturbate him with her feet, then with her hands, then together and make him squirt as she masturbates him with both hands and feet at the same time.
Saturday: The last footjob, that's why I want you to surprise me, make it the way you like it, surprise me with something special, unleash your imagination.
Size: 3.4 GiB Duration: 46 min Resolution: 1920×1080 Format video: MP4
Download link:
Mistress Gaia – Footjob Week.mp4