Nikki Brooks – Footjob Obsession – Madame Brooks Sinister Latex Studio
Nikki Brooks – Footjob Obsession – Madame Brooks Sinister Latex Studio
Hard already? That was quick! Nikki knew you'd be pulsating when you saw her wearing white over the knee thigh high stockings. As Nikki continues to tease you, you become more and more eager to let your cock out of those jeans. Coming close to breaking that zipper, she finally releases you.
Stopping and starting, teasing and denying, Nikki bets you that you'll do anything for her to continue to give you a perfect stocking footjob. She knows you'd do anything to spill your orgasm all over her thigh high stockings. Theres no better feeling in the world than Nikki Brooks stroking your cock over and over and over with the arches of her feet. And then, she stops! Having a man like you, groveling at her feet to continue to stroke that huge pulsating cock of yours. It's an obsession! You can't wait to blow your sticky fat load all over those beautiful white stockings.
Beg, shout, scream it at the top of your lungs, how bad you want to cum! With every stroke, Nikki continues to hit the sweet spot during the footjob of your dreams. Each teasing stroke puts you under her control. With this orgarms, you become Nikki Brooks property. This obsession will become that much harder to get rid of. There's no getting rid of this obsession, simply fulfilling it!
Size: 1.7 GiB Duration: 13 min Resolution: 1920×1080 Format video: MP4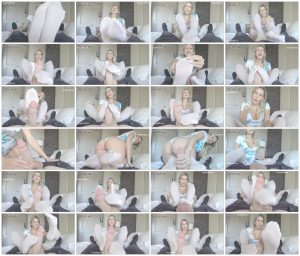 Download link:
Nikki Brooks – Footjob Obsession – Madame Brooks Sinister Latex Studio.mp4