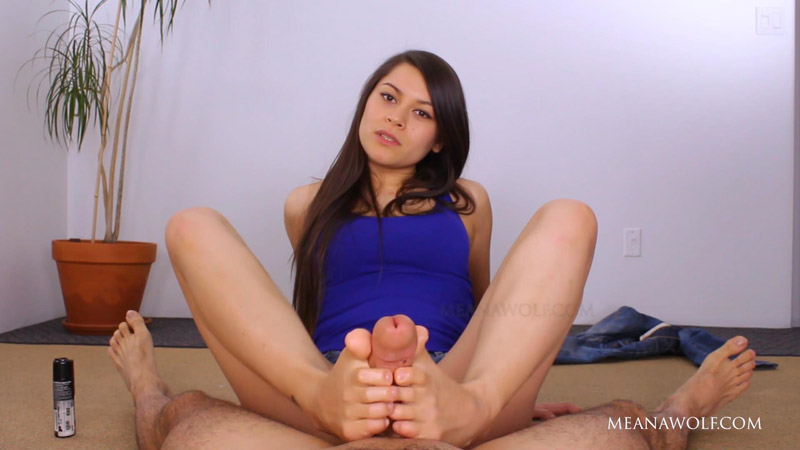 Under My Foot – Meana Wolf
We've been roommates for a few months now. And during that time I've been…well…a major cunt. I never clean up after myself, I'm always listening to music way too loud, I come and go at all hours of the night, and worst of all…I haven't paid my share of the rent yet. You're such a pushover that you never said anything. You're so consumed with your lust for me that you'd put up with any amount of bullshit just to be near me. I treat you like …and even though you hate my guts…you can't help it. You want to fuck me so desperately.
But a couple months in, you got a girlfriend. A nice looking girl who was confident enough to not be threatened by a female roommate. But she started to notice that things weren't quite right between us. She noticed that I could make you do anything I wanted. The two of you fell in love despite your "love/hate" relationship with me. And she built up your confidence enough to finally tell me off and kick me out of the apartment. So you storm into my room one day like a complete idiot and tell me that I have to pack my things.
Once you've had some time to cool off in the living room I come out to discuss it with you further. I sit close to you. Your cock stiffens immediately when you feel the heat of my body against yours. I know you're weak. I know exactly how much power I have over you. Because as "in-love" you are with your girlfriend…and as much as you hate me. You're nothing but a puppet to me and I can make you do anything I want. Even cheat on your girlfriend and pay my fucking rent. I slide my foot all over your crotch and take off your pants. You're so fucking powerless you don't stand a chance. Even the slightest touch of my foot drives you insane as I lube up your cock and work my feet all over your rock hard shaft. haha Now what were you saying about me having to pay the rent? xoxo Meana Wolf