100% Footjob: Barefoot Footjob in Black Leggings – Dame Olga's Fetish Clips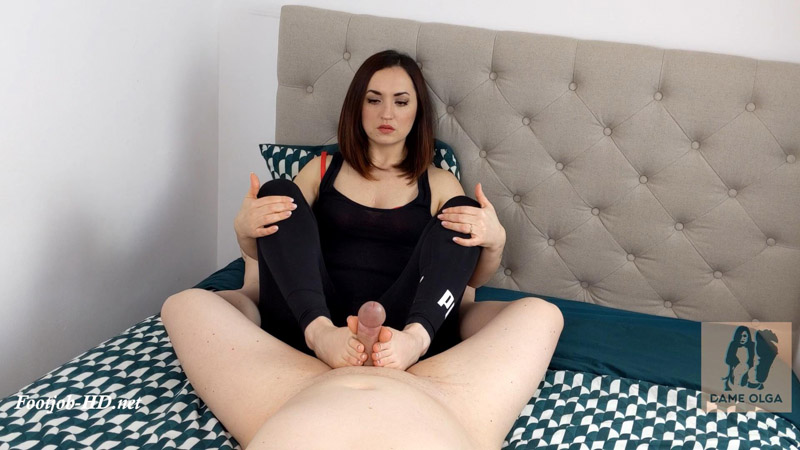 100% Footjob Barefoot Footjob in Black Leggings – Dame Olga's Fetish Clips
I have been working out today and my small feet are sweaty. But before taking a shower, my hubby enjoys my smelly feet with a nice footjob. I am barefoot in a black pair of leggings and my nails are perfect with a French pedicure. My wrinkled soles are a bit yellowish. This is the perfect conditions for an incredible footjob!
First step: I gently trample his balls and his cock, so it grows bigger. And thanks to the smell of my bare feet, or maybe because the feelings "skin against skin" (the feet against the cock) are just too great. And in no time, my hubby's cock gets hard so I can grab it between my feet for some foot fetish action.
This is when I begin my back-and-forth in two great positions: first, I grab and masturbate his cock between my soles; then I grab it between my toes. Both positions grow his pleasure, and I can feel how he enjoys it, since I feel his cock getting stiffer and the balls harder. When he is about to reach the climax, I can feel through his skin how it is rising to the top!
Soon, he cannot hold it anymore and he comes while I am giving him the footjob. In the middle of the masturbation, he cums over my bare feet a large blast of semen. And my feet get totally moisturized with his cum. It is warm and since I am barefoot, I can totally feel it over my small feet and between my toes. And I think this is perfect for my feet's skin and health.
Size: 978 Mb Duration: 11 min Resolution: 1920×1080 Format video: MP4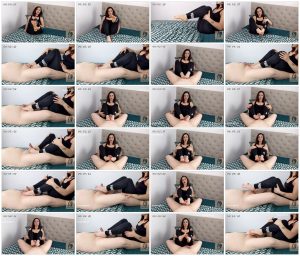 Download link:
100% Footjob: Barefoot Footjob in Black Leggings – Dame Olga's Fetish Clips.mp4