A Footjob From Hell Part 2 – Miss Melisande Sin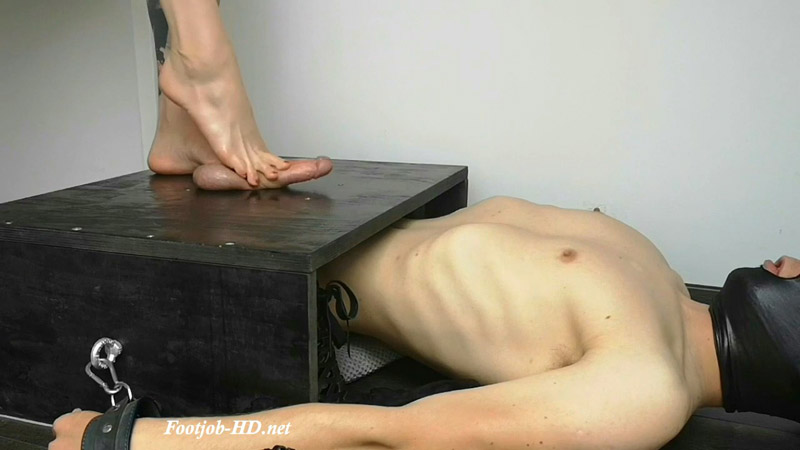 A Footjob From Hell Part 2 – Miss Melisande Sin
Miss Melisande is now in the mood to make Her slave remember this foot job for a long time. She is rubbing Her slave's cock with her beautiful feet in stockings and the speed and strength with which She is doing it makes the slave twitch and moan. And the intermittent stomping of Her slave's cock and balls as if they are nothing but objects under Her feet are making the slave cry with pain.
Her slave with a mush mind can do nothing but praise how beautiful Mistress' feet are. Mistress makes Her slave work his stomach muscles and kiss Her beautiful feet in stockings. And then before slave could even think of anything, Goddess stomps Her slave's balls and Mistress surely enjoyed that one as can be heard in her beautiful laugh at Her slave's moans and cries and with Her saying the words "Surprise Surprise".
Mistress is then back to rubbing Her slave's cock hard and decides to use Her spit as lube.She then uses Her hands to pull the balls and rub cock with lightning speed making slave gasp for air. She takes off Her stockings, throws it on Her slave and continues rubbing, stomping, pressing, slapping and punishing Her slave's cock and balls. Mistress does not like pussy slaves and commands Her slave to "Stop whining like a little bitch".
Mistress continues torment Her slave and tells Her slave he is going to cum all over himself today. She mocks and asks Her slave if he is going to cum today with his pathetic little cock. slave is now completely worked up and begging for permission to cum to which Mistress is just laughing and enjoying. Mistress sees the slave's cum fly onto his body and that very second Mistress steps away ruining his orgasm. and the very next second she stomps slave's cock and balls to get the remaining cum out. She then rubs Her sexy feet in the cum and tells Her slave "You are going to lick it off for me" and then puts Her right foot forward and orders the slave to lick his cum off Her beautiful feet.
Size: 648 Mb Duration: 13 min Resolution: 1280×720 Format video: MP4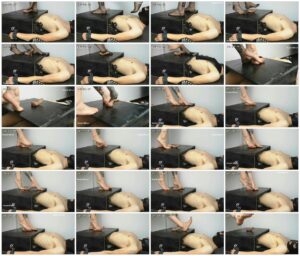 Download link:
A Footjob From Hell Part 2 – Miss Melisande Sin.mp4