Aria in Toeless Stockings – Joey's FeetGirls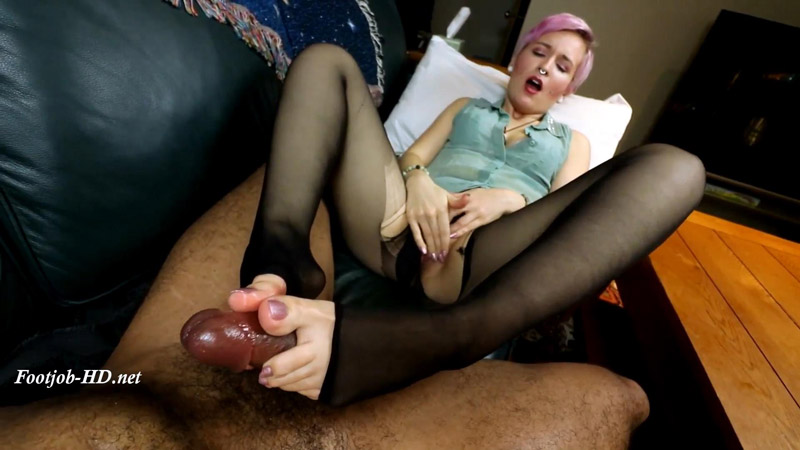 Aria in Toeless Stockings
Oh god I've been missing me some Aria. I haven't seen her since this summer and I'm secretly in love with her. If you remember, I met her while out with a bunch of friends and she disappeared for awhile. This time, I hadn't lost communication with her but our schedules hadn't quite matched up just yet with all the traveling I did over the summer. I message her about a shoot and she tells me we can, but she's also move about an hour and a half away from me.
Looks like I'm gonna take a tiny road trip! Lol.
I arrive at her house and she's looking just as sexy as ever. She answers the door completely naked except for a robe on as she's unsure what she should wear for the shoot. I'm tempted to tell her nothing at all. I start to set up while she finishes getting ready and realize I still have a pair of stockings in my camera bag. Perfect.
We're ready to film and I get into position and have her sit in front of me to kind of practice the position we're gonna sit in. The thing is, her toes looked way too good sticking out of her stockings so I grab them and take advantage of the situation. She's giggling because she's very ticklish on her feet and when I tongue her toes she can't help but squirm and laugh. I tell her to start recording.
The video starts out with her holding the camera as I go to town on her toes. My dick stiffens from the sensation of her feet in my mouth and the sounds of her voice as she giggles with pleasure. She pans the camera down and the magic begins.
My cock oiled, she uses the toes of one foot to stroke the length of my dick which shows off her well formed arch. I love this angle because it shows you how curvy her feet are. I let her handle the camera for this and she does a pretty good job of catching the action.
She hands the camera back and wraps her toes around the sides of my dick and continues jerking me with just her toes. She starts using her hands, too, massaging my dick head with her fingers while her toes grip me.
I'm moaning with pleasure when I notice her reach down and put her hand on her crotch. Apparently she's getting turned on by it and openly admits it. I suggest we rip open her stockings and she obliges. She starts rubbing her pussy immediately which turns me on even more.
Then, we rip a hole in the heel of her stockings and she slides my dick inside so its caught between the hose and the sole of her foot. Her feet are super soft and wrinkled and the feel of her bare foot drives me crazy. I give the camera back to her so you can see her arches wrapped around my stocking-bound dick while she jerks me up and down.
The view is amazing and I kinda miss the initial cumshot as I grab her feet and pump them on my dick hard and quick but from her view we don't see the initial squirt, but I do take the camera back in time to watch her squeeze the rest of the orgasm out. With my dick tied up in torn stockings, and her toes wrapped tightly around my dickhead, she slowly strokes as thick cum continues to drain out of my dick.
Size: 1.2 GiB Duration: 13 min Resolution: 1920×1080 Format video: MP4

Download link: