Autostop FootJob – Rossella Visconti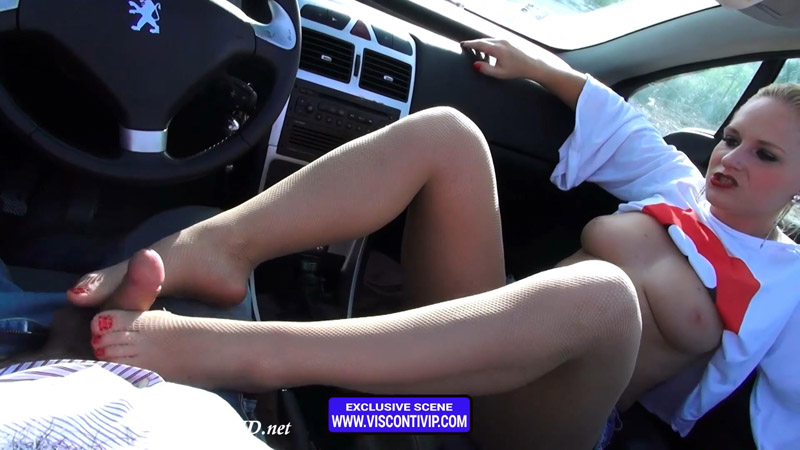 Autostop FootJob – Rossella Visconti
It was a beautiful day, and since I was on way back from a business meeting from Rome to my house in Milan, I decided it would be perfect to go to the beach.
I was almost there, but what happens? At one point the machine starts making a strange sound and lights a symbol in the dashboard… oh noooo, but right now? I was at the mechanic a few days ago, before leaving for Rome! This car always makes me spend a lot of money… that breaking boxes, and now what do I do? Nothing, I go down and look a bit 'under the hood, but i dont understand nothing… I have nothing else to find someone so kind to take me to the city where I can find some workshop that come to take my car and I fix it.
That day was very hot, so even my outfit was not very abundant. I wore the very short shorts, where you could also glimpse a bit of my ass, a t-shirt that came just below the breast and if the wind blew it fluttered and you could see my two apples underneath. Along with all this I had the fishnet tights and high-heeled shoes.
Dressed like that, even if I was not convinced, because someone could exchange me for a slut, but I did not have much else, I started hitching. Not long after, a very kind boy stopped, he immediately offered to take me to the city and find a mechanic together!
I was so lucky I found him. But now how can I repay? You do not find such nice guys every day, and he deserves to be repaid. Unfortunately, I do not have much money, and apparently I will have to spend more on this damned car. So what could I do? Maybe I could like him. I try to make him understand that I would like to repay him, but that I can not repay him economically and moreover I have also boyfriend, so even something more hard I can not do it. But if he want, I can offer he my little feet… he accepted right away! We found a place in the countryside not far from the street and I started to tease it with my little jewels…
Size: 1.2 GiB Duration: 16 min Resolution: 1920×1080 Format video: MP4

Download link:
Autostop FootJob – Rossella Visconti.mp4