Barefoot Footjob With Leggings And Precum Play – Dame Olga's Fetish Clips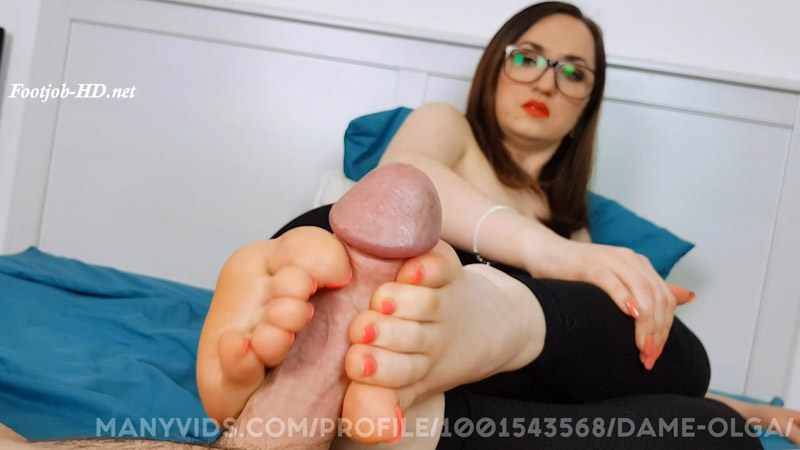 Barefoot Footjob With Leggings And Precum Play – Dame Olga's Fetish Clips
This time, I am barefoot. In only wear black leggings revealing my boobs as well as my highly arched feet. So you can taste them, I tease a little showing you my short toes as well as my orange-ish sweaty wrinkled soles. Don't they look yummy? This gets my hubby excited pretty bad so he has a lot of precum.
That's why in this clip, there is a lot of precum and I feel enticed playing with it: you can see me pulling strings of precum out of his cock. About the footjob I give him, I first play with his balls, stroking these with my toes, until I grab his dick between my feet. And I vary positions by having him fuck my arched soles too, and treating him with a hot foot trap.
That's not a surprise that he comes quickly over my sexy feet. There is loads of cum so I'm delighted to play with the semen. I carefully rub it over my feet as well as my soles. It's really hot I think, especially on barefeet. In the end, I show you how much cum I've got on my feet. Could you do best?
What I Wear In This Video
For this clip, I wear almost nothing but black leggings. I think it's sexy because it's close-fitting and it let my camel toe appears! But It also reveals hot bare feet because I'm barefoot for this clip; showing my small toes as well as my yummy orange-ish soles. My boobs are in plain view, by the way. And I also wear my large eyeglasses.
Size: 1.2 GiB Duration: 12 min Resolution: 1920×1080 Format video: MP4

Download link:
Barefoot Footjob With Leggings And Precum Play – Dame Olga's Fetish Clips.mp4