Bootjob: Boots Worship By My Personal Lèche-Bottes & Shoejob In High Heel Boots – Dame Olga's Fetish Clips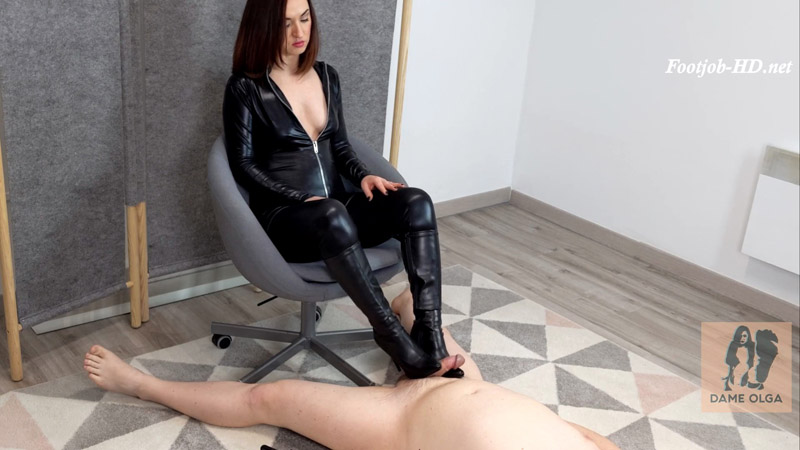 Bootjob: Boots Worship By My Personal Lèche-Bottes & Shoejob In High Heel Boots – Dame Olga's Fetish Clips
The best part of autumn is that boots are back. If you are a boot fetish enthusiast, you will probably enjoy this bootjob video: I am wearing a wet look catsuit, as well as knee-high black boots. I just love how sexy they look with their pointy toe. They sure look kinky and like they were made for shoe fetish action. You can enjoy me dangling the high heel boots for a little while.
After what, I have my hubby crawl at my feet for a little treat. In France, the word for bootlickers is "lèche-bottes" and this is literally what he is! Not only does he prove zealous, but he also licks my boots (and shoes) clean so I always have perfect feet, no matter where I walked. On all fours, he sucks the toes and heels of my boots, and he licks them with gluttony too. Good boy, he deserves a little more.
After the boots worship, I softly trample his balls and his cock with my boots on. Of course, it does not take long before his cock gets hard. I masturbate him with a bootjob, with back-and-forth between my toes. With a combination of soft and fast movements, I edge my hubby's pleasure to the maximum. I can feel he is more and more excited with my shoejob and that he his about to reach the climax.
And before long, my hubby comes by cumming all over my sexy boots. This is an incredible blast of cum that is shot upwards and my high heel boots get covered in semen. So, you can see how my boots are soaked, I stand up and show you what a mess it is! Again, it looks like they were made for this, they just look so pretty this way. But then again, I will need my "lèche-bottes" to clean my shoes.
Size: 1.1 GiB Duration: 13 min Resolution: 1920×1080 Format video: MP4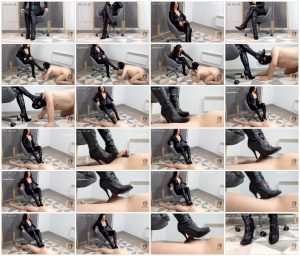 Download link:
Bootjob: Boots Worship By My Personal Lèche-Bottes & Shoejob In High Heel Boots – Dame Olga's Fetish Clips.mp4