Bring the Rain: I Crave Her Soles Even More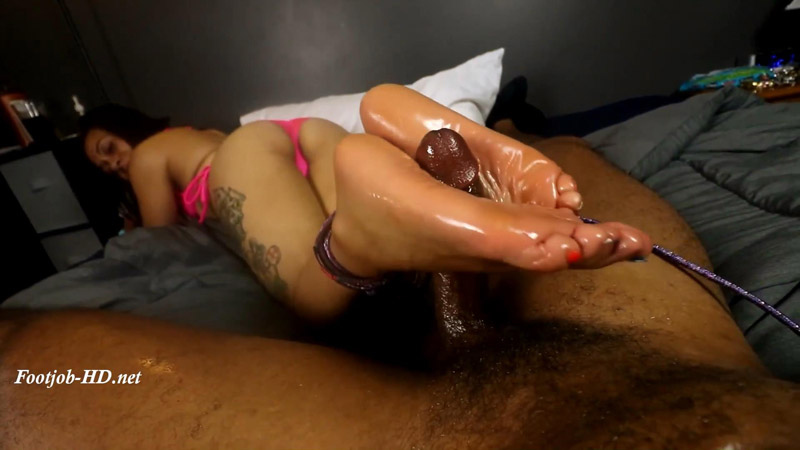 Bring the Rain: I Crave Her Soles Even More
I know you havent seen @crave_my_soles in some time but I did have some fun with her last time I saw her.
We decided to make another video but this time the sexual tension was very high. I intended to make a full stocking video but we ended up going a different direction…
I'm doing a photo shoot with her in these toeless stockings and they're kinda turning me on. I take a bunch of great pics and we go in for a video. She doesn't waste any time; she starts off with her feet around my dick and giving me head at the same time. She lays on her stomach with a view of her stocking soles in the background, my swollen dick penetrates her lips.
She leans back and grips me with her bare toes. I'm enjoying the view but honestly the stockings feel kinda rough on my dick so I ask her to take them off. She suggest that I be the one to remove them. OK.
She bends over and offers her bare soles to me but thinks it would be fun to tie up her ankles with a rope. We try a couple positions like this while I hold the rope before she starts losing her underwear. She bends over with her ass up and pussy showing which is turning me on big time. She continues to give me a solejob and looking at her wrinkles is great but I can't help but reach out and grab her ass. What happens next is what gets us started on some xxxtra stuff…
After I grab her ass, she bends her ass close to me, my stiff dick still between her feet. She kinda moves her ankles a big which forces my dick to aim toward her pussy and she leans back into it, smushing my dickhead against her pussy lips. OMG this is not in the script. She sits up, readjusts, and does it again. She teases me, moving her ass back and forth, side to side, causing my dick to slide against her vagina. She stops teasing me and jerks me with her feet some more before pressing my dick against her pussy again. She goes between these two actions a couple of times before I can't take it anymore.
I tell her to put it in.
She obliges.
She sits back on it and my dick slides in which feels like heaven. I'm not gonna explain the rest in detail but she ends up riding me, then I fuck her from behind, then I fuck her missionary before cumming on her feet. The last part gets a little fudged as the light was low from the angle we were in and the camera had trouble focusing so its really hard to see any of my cumshot! This is actually a big reason why I don't like filming sex because sometimes it can be pretty hard lighting the angles correctly!
I think you'll really enjoy this one!
Size: 2.1 GiB Duration: 29 min Resolution: 1920×1080 Format video: MP4

Download link:
Bring the Rain: I Crave Her Soles Even More.mp4