Crazyforfeet Meets Footchick – Joey's FeetGirls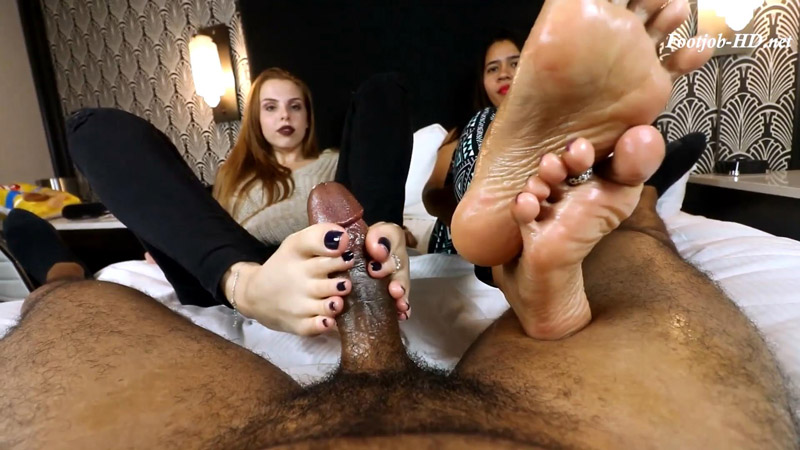 Crazyforfeet Meets Footchick
I shoot Crazyforfeet again and I wanted a double footjob this time so who better to call than Esmerelda (aka Erica)? She's been very interested in meeting Ashton in the first place so I go ahead and set it up. The two of them are both bona fide footjob pros at this point but Ashton is a little bit nervous cuz she's not really experienced in 2 on 1 action. No problem. You already know Esmerelda is a pro at this and they sync up in no time.
The two go at it using one foot each and have no issues getting a rhythm going. They are having fun with it, laughing and carrying on. After a bit, Ashton takes over giving me a toejob while Esmerelda props her soles up in front of the camera. They go back to double teaming me but this time they both use both feet on my dick at the same time. I have them switch positions when poor Ash gets a cramp in her foot.
I ask Ash to lay on her stomach. "Yes Sir!" she replies. She uses her toes on my cock while Esmerelda holds her feet in the air, again giving a sole show while Ash works me over. Then, Ash fits my dick between her wrinkled soles and Esmerelda grips my dickhead with her toes and they jerk me off simultaneously, all 4 feet on my dick at once. The sensation and visual are too much to handle. I push Esmerelda's feet tightly against my dick and cum flies out. "Yummy!" she exclaims, as cum runs down her foot.
Then, as she likes to do, Esmerelda graps my cockhead and twists with her hand, my over-sensitive member can't handle the sensation. I continue to record her teasing and playing with my dick head while I squirm and shout in discomfort.
Off camera antics –
True story: right after we record, the three of us go out. I have to work in the morning but I ended up getting trashed and overslept for work the next day which got me in BIG trouble. Not only did I get suspended from work but I also got a big fat ticket for parking too long at my metered parking space!
Size: 1.4 GiB Duration: 15 min Resolution: 1920×1080 Format video: MP4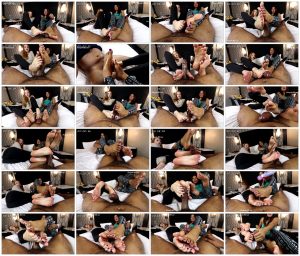 Download link:
Crazyforfeet Meets Footchick – Joey's FeetGirls Footjob-HD.net.mp4