Double Footjob On My Brother's Cock With Mom – XXX Multimedia – Leilani Lei, Fifi Foxx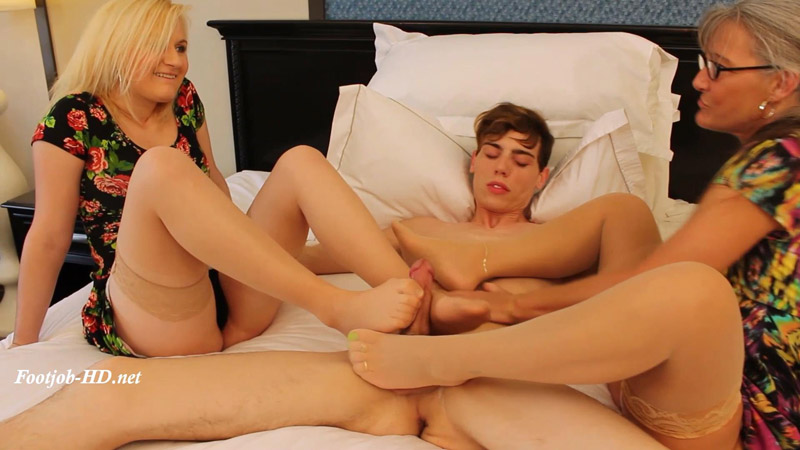 Double Footjob On My Brother's Cock With Mom – XXX Multimedia – Leilani Lei, Fifi Foxx
Ugh, now that Aiden is older, he's so mean and distant. He was so close to the family, but now he's off talking to dozens of girls, and staying out late. Mom and I have had enough of it.
He's confused when we lead him in, walking arm in arm with him. He immediately notices the straps on the bed, but Mom tells him not to worry about it. She begins unbuttoning his shirt, and I follow her lead. I help take off his pants, forcing his clothes off of him, and Mom tells him we have a surprise. She giggles saying it's a good surprise, but Aiden has no idea what Mom and I have been planning….
"See, he's kind of excited about it. He doesn't even know what's in store yet." Mom smiles at his erect cock, and we push him on the bed, watching him fall naked. Now a little more frightened, Aiden squirms on the bed, but Mom commands him to get in the middle. She gets on one side of him, and I get on the other side, and we fasten him down with the straps. I tell him to relax as Mom and I bind all of his limbs tightly, spreading him on the bed. Even if he struggles, I know he can't get out.
Mommy and I touch Aiden, running our hands on his shaft, and gently caressing his balls. Mommy presses her foot against his face, "I mean, you do like feet, don't you?" Of course Aiden admits it, and we rub both of our nylon feet up and down his body, teasing him. Mommy wraps her feet around his cock and strokes it, while I rub my foot against him. "Look at how hard you are," I tell him, "…is that precum?" Mommy holds his cock still, and I let the dribble touch my fingers, stretching it out.
Mommy and I play with his cock using just our feet, and it drives my brother crazy. He loves our feet gently jerking his cock, rubbing up against his shaft. We share his cock for a while, admiring his dribbles of precum, and giggle as he trembles with pleasure. I know he wants to get off so badly…. I can feel my brother gripping my ass when Mom isn't looking, but I don't mind; I like it when he touches me. I even love the taste of his precum.
Mom and I even helped each other out. I would hold his cock with the sole of my foot, and Mom would use hers to stroke him. We took turns exploring his cock with every part of our feet. I've never seen my brother so desperate to cum before. Oh, and to tease Aiden even more, I'd rub my nylon feet against his chest, and then move up to his face, forcing him to sniff them. I could hear him inhaling deeply to get all of the smell! I smile, "You're just throbbing, aren't you?"
I couldn't believe how dirty Mom was. She was saying the naughtiest things I've ever heard as her toes rubbed up against him. Aiden was soaking our little pantyhose with his juices, and when we least expected it, he came! It shot straight from his dick, surprising us, and we were so excited to see his big load. It got all over my thigh-highs and feet, but I wanted to get more. Mommy and I ran our nylon feet all over his chest, drenching them with his cum. Satisfied now, Mommy told Aiden we were going to go shopping, and we left him there…all tied up!
This clip includes: Leilani Lei, Aiden Valentine, Fifi Foxx, taboo, mom, brother, sister, planned punishment, forced stripping, bondage, straps, cock/ball caressing and stroking, tease, dirty talk, feet, foot jobs, foot smelling/sniffing, pantyhose, nylons, precum play, giggling, laughing, smiling, moaning, clothed female and naked male, 2 females and one male, cum on feet and pantyhose, glasses.
Size: 2 GiB Duration: 20 min Resolution: 1920×1080 Format video: MP4

Download link:
Double Footjob On My Brother's Cock With Mom – XXX Multimedia – Leilani Lei, Fifi Foxx.mp4