Flight Attendant Uses Her Feet and Mouth on Pilot and then jerks him off on her Feet! – Kinky Foot Girl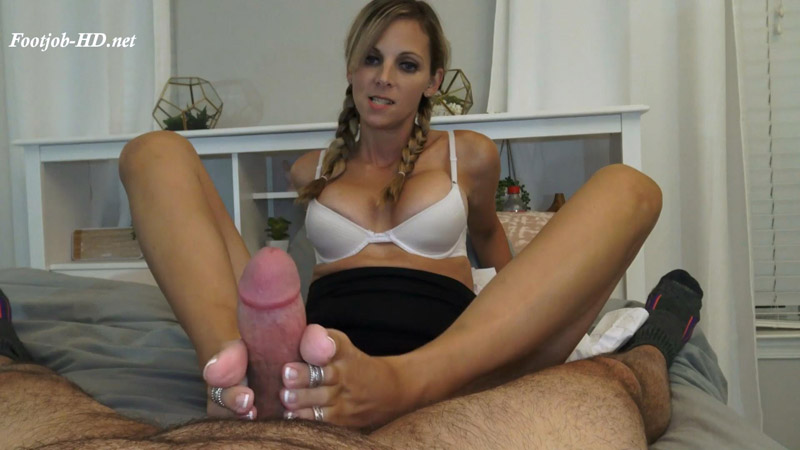 Flight Attendant Uses Her Feet and Mouth on Pilot and then jerks him off on her Feet! – Kinky Foot Girl
What a long flight this was, I know we are both tired. A flight attendant spends most of her time on her feet, and flying is very stressful on the pilot too. This unplanned layover lands the pilot and the flight attendant in a hotel room, and the pilot offers to rub her feet since he knows she has been on them all day, in uncomfortable shoes!
The pilot takes quick notice of her feet, french tipped and with nice toe rings. He gently plays with her feet and then plays with them a bit, but that doesn't last long as he begins to get excited. He gets closed and strips naked and she places her feet on his lap. He convinces her to begin stroking his cock with her feet.
She plays gentle at first, rubbing it between her feet and then begins to stroke it faster. She takes her attendant shirt off exposing her cleavage in her white bra. After stroking his cock for several minutes, she braces it with her feet, leans in and begins sucking and licking all over his cock.
When he is about ready to blow, she knows that he really wants his cum all over her sexy feet, so she backs leans back and uses her hands to make him cum all over them.
Size: 1 GiB Duration: 11 min Resolution: 1920×1080 Format video: MP4

Download link:
Flight Attendant Uses Her Feet and Mouth on Pilot and then jerks him off on her Feet! – Kinky Foot Girl.mp4