Goth Footjob – Morgana Soles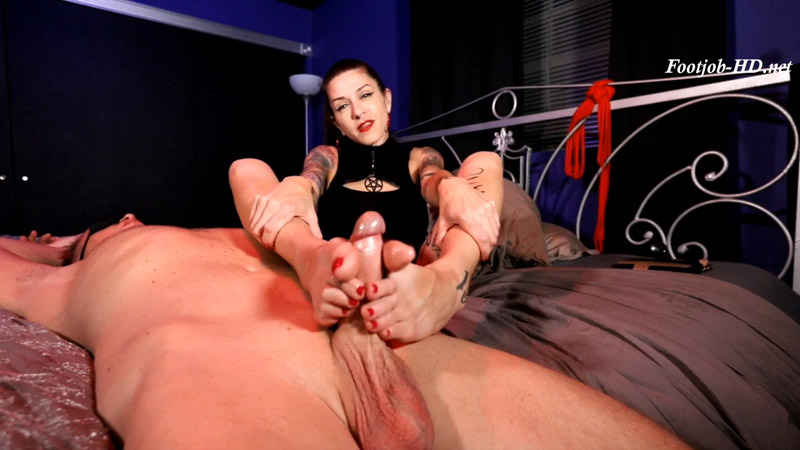 Goth Footjob – Morgana Soles
As part of Algos' initiation into the Goth Crew he needs to receive a Blindfolded Footjob.
Nobody is more Goth than Fearless Leader Sorceress Morgana Soles. However, a Goth assistant could "step in" and take over from the beleaguered Sorceress Soles because Morgana has given ten Footjobs already today! Knowing her male slave all too well, Morgana thinks that the added mystery could be a turn on to Algo. After this, the next initiation stop is a local gloryhole. But Feet First…
Morgana is enjoying this experience and it's written all over her face nonverbally. Her facial expressions are just as clear as the awesome artistic tattoo ink which you get to see up close. The grateful penis is pleasured from all angles including reverse rubs.
With her Toes painted a fiery red to match her lipstick, Morgana seems especially playful today. Teasing Algo, Morgana says she hopes he drank extra water to stay hydrated for all this Toe Milking. Sliding her Feet all over Algos' cock, Morgana says it probably feels like a FootPussy!
Cum expulsion is as inevitable for Algo as a Goth vampire having a Neck Feast. Speaking of which, Algo might not be aware, but his Goth Mistress is known to have a Neck Proclivity and looks hungry. Algo might want to take his blindfold off and move onto the gloryhole initiation phase before Morgana gets any ideas…
Size: 1.2 GiB Duration: 12 min Resolution: 1920×1080 Format video: MP4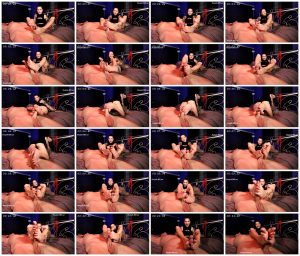 Download link:
Goth Footjob – Morgana Soles Footjob-HD.net.mp4