Hot For Teacher – Goddess Platinum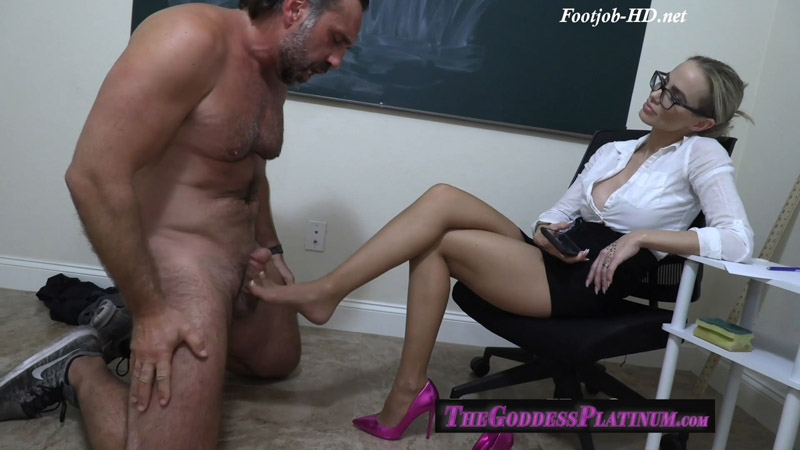 Hot For Teacher – Goddess Platinum
Johnny Football is being kept in detention by Miss Platinum for being disruptive during her classes. (Sometimes the boys in her class just cannot control themselves because "Miss P." is just so hot – and the way she dresses and teases the boys doesn't help!) Even as he sits in Miss Platinum's detention room, he is obviously distracted by her amazing legs… and Miss Platinum catches him staring at her them several times. She almost seems to be intentionally teasing and tormenting him with her legs crossing and uncrossing… her shoe dangling just off the tip of her toe…
Poor Johnny has a game in a few hours and begins begging Miss Platinum to let him out of detention so he can get away from this cruel, hot schoolmarm and go play in his big game! Miss Platinum hates football players and decides to make this "macho jock" humiliate himself for her amusement if he wants out so bad.
She begins by ploppping her feet up on his desk and crossing her legs at the ankle. Then she says that "if you want to go to your game so bad, then kiss the bottom of my shoes and BEG me to let you go!" Johnny is aghast at the proposition- but he begrudgingly does as he is told. He places his lips on the dirty soles of Miss Platinum's pumps and begins begging her. Miss Platinum laughs- but she isn't nearly done with him yet! His humiliation has only just begun…
Soon she has Johnny shining her shoes – with his tongue – as well as literally kneeling before her, bowing down, and kissing her stockinged feet! Miss Platinum soon notices that there seems to be a "bulge" forming in the crotch of his pants as he kisses her feet and begs for permission to leave! Well, that is not acceptable! And what is that from, anyway??
Johnny finally admits that he has a huge cruuuuush on Miss Platinum and fantasizes about her all the time. Then he actually has the nerve to start begging to have sex with her! Miss Platinum explains that she is MARRIED- so that is just not going to happen.
However, she may allow him to have sex with… her shoe! She thinks the idea is hilarious as she slips her shoe off and makes her student kneel before her and thrust himself into her shoe over and over! How degrading! But this jock is so obsessed with her… he actually admits that he is happy to accept having sex with just her shoe! How pathetic.
So Miss Platinum decides to give him a slight "upgrade"- she extends her stockinged foot and tells Johnny that he can "hump the bottom of her actual foot" instead of the inside of her shoe. She thinks its so funny that he actually seems excited by this new option! Miss Platinum basically laughs in Johnny's face as he kneels before her and humps the bottom of her stockinged foot. "These school boys are so horny and obsessed with her that they will literally do anything" for her she thinks to herself…
But every time Johnny is about to cum, Miss Platinum takes her foot away and laughs hysterically at Johnny while he is left desperately "humping air"! Miss Platinum explains that her husband (the school's football coach!) has always told her that players should refrain from sex before games!
So she makes a deal with Johnny… he can go to his game now, and if he wins, he can come back and "finish" by humping her amazing legs!!!
Johnny can't believe it! He rushes off and plays the game of his life! His pent-up sexual frustration makes him unstoppable on the field. And he rushes back to the school as quickly as possible… just to throw himself back at the feet of his Teacher-Tormentor, Miss Platinum!
Miss Platinum is still not done with her humiliating surprises for Johnny, though… and he better do whatever she says, because she took pictures of him humping the bottom of her foot earlier! And he wouldn't want those posted around the school, would he..?
Between the blacckmail and the powerful allure of Miss Platinum's perfect legs, he has no choice… he is Miss Platinum's plaything now…
Size: 3 GiB Duration: 34 min Resolution: 1920×1080 Format video: MP4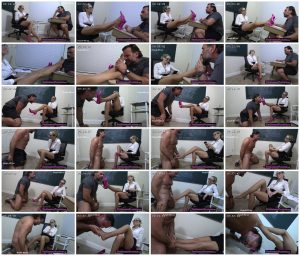 Download link:
Hot For Teacher – Goddess Platinum.mp4