Kandy Kummings's Forced Footjob – Nothing But Footjobs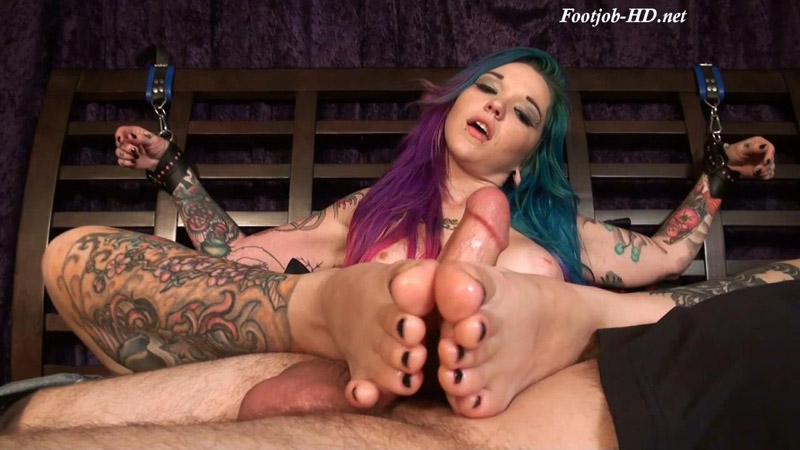 Kandy Kummings's Forced Footjob – Nothing But Footjobs
Hot footjob persuasion. Topless nudity.
Kandy Kummings is a hot and open-minded fetish model… well, open-minded until you talk to her about feet. She thinks feet are weird, but she's a bit of a hypocrite, because she models her own hot size 9 feet! She claims the idea of a footjob completely grosses her out… but our camerawoman Bianca has ways of changing her mind! A topless kandy is wrapped and strapped to the bed for a little "convincing"! Her sexy feet are bare, toetied, and completely helpless!
Kandy's feet are extremely ticklish so Bianca starts off with her worst nightmare – A HAIRBRUSH SCRUBBING HER SENSITIVE SOLES! She tickles her feet with one hairbrush, and then DUAL HAIRBRUSHES, causing Kandy to scream with peals of agonized laughter and beg for mercy! The tickling is brutal but she refuses to give in, so Bianca break out the VIOLET WAND, AN EVIL DEVICE THAT ELECTROCUTES WHATEVER IT TOUCHES! Kandy squeals with a mixture of laughter and pain as sparks of electricity dance across her toes and all over her sensitive soles and arches. Her feet twitch and flex hotly as the voltage makes them dance – THE SHOCKS ARE INTENSE AND IT'S NOT LONG BEFORE SHE'S BEGGING TO GIVE A FOOTJOB JUST TO SAVE HER FEET! Bianca is satisfied but gives Kandy's feet a few more shocks for good measure, relishing in her desperate pleas for mercy.
Kandy is cuffed to the bed with her BARE BREASTS completely exposed. She keeps her big size 9 feet hidden away under boots and thick socks so her soles are silky soft. IT DOESN'T TAKE LONG FOR THE COCK BETWEEN KANDY'S FEET TO BECOME ROCK HARD, AND SHE DISCOVERS THE FEELING OF A HOT, PULSING DICK AGAINST HER SENSITIVE SOLES IS A HUGE TURN ON! She cant hide her arousal and coos with excitement at the sensation of a thick shaft tickling her feet. "MMM… MAYBE THIS ISNT SO BAD…" KANDY WHISPERS WHILE STROKING HIS HARD COCK WITH HER SILKY SOLES. Kandy also uses her long toes to excellent effect, wrapping them around his shaft and squeezing, even using them to rub the sensitive underside of his dick. She makes his head engorged with and KEEPS HIM ON THE EDGE OF A MIND-BLOWING ORGASM FOR OVER 14 MINUTES! Kandy bites her lip and moans with arousal while she watches his dick get harder and harder, the veins popping out of his shaft until the tension becomes unbearable!
Kandy is finally ready to make him cum. She makes him cum by stroking his cock with long and firm strokes until his head pops, CAUSING HIM TO BLOW A BIG LOAD ALL OVER HER SOLES AND TOES, HIS TWITCHING COCK ERUPTING FOR OVER 15 SECONDS STRAIGHT! Kandy moans with and coos with satisfaction, her attitude about the female foot changed forever.
Size: 1.2 GiB Duration: 17 min Resolution: 1920×1080 Format video: MP4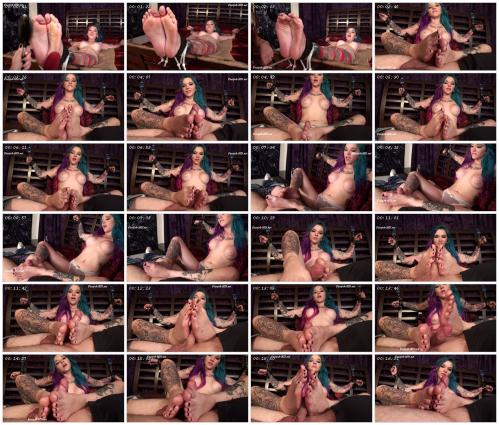 Download link:
Kandy Kummings's Forced Footjob – Nothing But Footjobs Footjob-HD.net.mp4