Leg Model Amazing Footjob – Unchained Perversions Gonzo – Nikki Riddle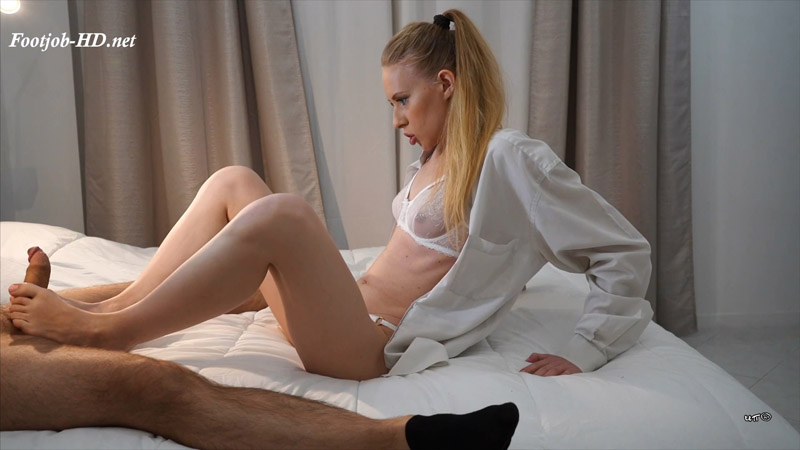 Leg Model Amazing Footjob – Unchained Perversions Gonzo – Nikki Riddle
Nikki is a young girl from Ukraine, a wannabe new starlet for advertising modelling. She has got kilometric legs, wonderful white skin and very skinny body. She's gorgeous and she would be perfect as a model. She is trying as a "leg model" for a big stockings company. She is doing some shooting with a professional photographer, to create her portfolio for the company: he is their talent scout indeed.
Nikki is laying on the bed, while the photographer is touching her body, to make her assume the right position for the photo. It doesn't seem anyway exactly a professional attitude… he keeps touching her on tits, ass, legs, sometimes he tries with pussy too. Nikki is annoyed by the situation, but she doesn't say anything. In any case, she doesn't go along with him. The man, stops the photos and says to her that she is totally unfit for the job, that she needs some posing lesson maybe… but he asks her to go to her private bedroom and change outfit…
When he enters the room, he is confident and arrogant. He says to Nikki he saw her in a porn movie, that's the real reason he doesn't want her for that kind of work. Or… maybe she could obtain the work doing a slut job with him. Nikki understands he is only a loser, she is too classy and confident to succumb to him. He puts her red heel on his chest, ordering him to lie on the bed.
Now she has his dick in her hand. He strokes him, then he passes to her feet. Her soles and feet are so perfect and soft. He cannot resist to her sexual power. She uses all her seductive weapons to control him. She licks his dick to keep him on edge, then she passes again to feet and strokes his dick, showing him her perfect body, without giving it to him. He could have only her feet and he must keep his cumshot on edge all the time. That's the road to control his simply mind. He is on edge all time, till he finally asks her to cover her feet in sperm. He produces a huge cumshot on her amazing soft soles. She is having the work for sure, cause his will is to weak and addicted to feet… maybe he's gonna be her foot slave as well… she would bet it!!!
Size: 1.1 GiB Duration: 12 min Resolution: 1920×1080 Format video: MP4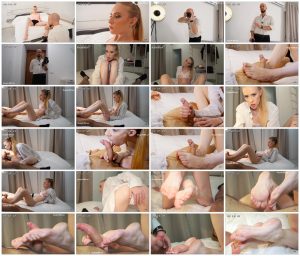 Download link:
Leg Model Amazing Footjob – Unchained Perversions Gonzo – Nikki Riddle Footjob-HD.net.mp4