Maddie and Taylor: Save Your Load For The Reverse FJ! – Foot Guy James Footjobs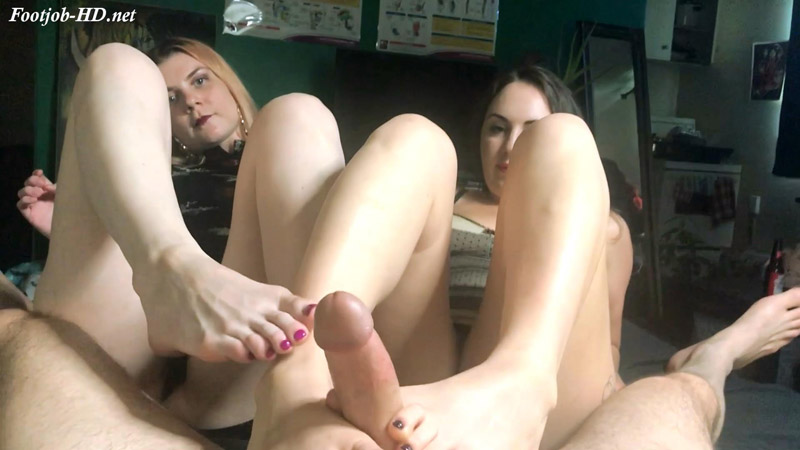 Maddie and Taylor: Save Your Load For The Reverse FJ! – Foot Guy James Footjobs
About a month ago, Maddie introduced me to her friend Taylor (see Taylor and Maddie Double Team Me), and we had such a blast we had to do it again. After a few beers to cool down (first hot day here in Toronto), we made our way over to the bed. Taylor asked me what my favorite footjob position is? To which Maddie quickly responded for me "reverse so he can see our soles!" She knows me well. Taylor followed with "So we'll save that for last, both of will get on our knees, but you're going to have to wait for it, you can't cum until then!" My head is swimming at this point in beer buzz and the promise of my dream way to finish, all the while Taylor and Maddie are flexing their toes and playing footsie with each other. I'm getting hard so they get my underwear off, and I roll film for what you see here.
Maddie and Taylor fuck me with their feet in so many positions, and I'm delighted so many times they stroke my cock perfectly in tandem and from different angles. I love watching them wrap their toes around the head and flex slowly for the camera. But as instructed I keep holding off. About 20 minutes in they hit me with the double reverse and I'm instantly ready to unload. I watch in disbelief as my cock pulses cum onto both their soles. I continue to fuck their feet after I cum and position the camera in perfect position to take in the cummy mess and their glistening soles.
We're definitely going to have to do Part III!
Size: 2.4 GiB Duration: 23 min Resolution: 1920×1080 Format video: MP4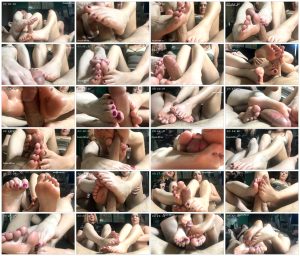 Download PrimePlus:
Maddie and Taylor: Save Your Load For The Reverse FJ! – Foot Guy James Footjobs.mp4
Mirror:
Maddie and Taylor: Save Your Load For The Reverse FJ! – Foot Guy James Footjobs.mp4