Mistress Gaia – Dirty Sockjob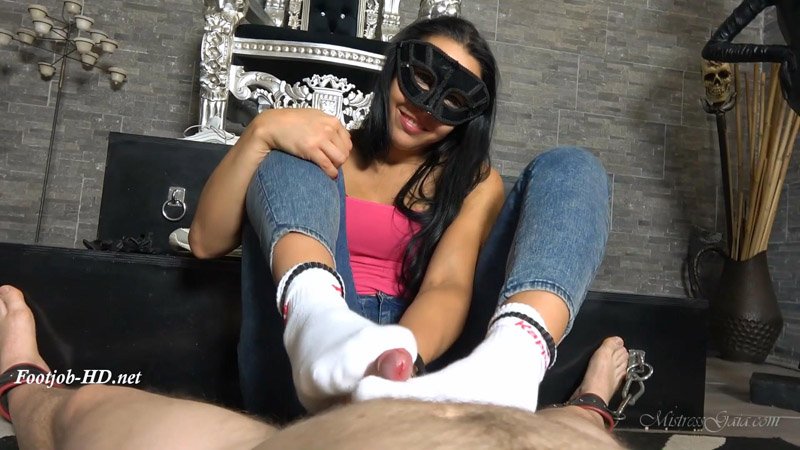 Mistress Gaia – Dirty Sockjob
CUSTOM REQUEST – You tell your male slave that last time you sock jobbed him as a punishment, the socks were not filthy and sweaty enough, such that he seemed to enjoy his time too much. He is thus challenged to compete against you to prepare filthy/sweaty socks. He has only 3 days to prepare the socks as you will have 5 days, so he is in disadvantage. He can't cheat by walking on soil or garage floor, it has to be on house floor otherwise you will make him lick his own socks clean. Therefore, he will have to do the shoes-on-shoes-off and sweating while he wears them more intensively than you to beat you at the game: see attached picture for instructions on socks preparation. You fool him by telling him that if he beats you, he will only have to be sock jobbed by the least filthy socks (yours) or if he loses, it will be a sock job with more filth (yours).
Once he comes to you to compare his socks bottoms with yours (you both have shoes on and socks wet sweaty before the clip), you tie him with cock and balls well exposed arms tied. You install the submissive in semi-sitting position such that he can see his cock spoiled by the filthy/sweaty socks. Then, you reveal the truth: if he wins and have filthier socks than you, he will be sock jobbed with the filthiest socks and will have to do a lickjob/cleaning assignment of the least filthy socks. You would remove his socks and put them on your feet for the sockjob and put your socks mounted on two large dildos filthy bottom exposed. If he loses, you still exchange socks, but now, he will lickjob/clean the filthiest socks while being sockjobbed by the least filthy ones on your feet. Once he has a orgasm on the socks, you make make him understand he has to double his punishment since last time he had pleasure, and you make him lick the spoiled pair on your feet clean. So after you made your slave cum with the sockjob, you wear latex or leather gauntlets, you take the licked socks off the dildos, you put your cummed socks on them so he will be forced to lick them. Then, you make him hard again with your gloved hands, you put the first licked sock over his dick And the second licked sock over it, dirty side out like this so his dick is covered with two socks. While your slave is made to lick the cummed socks on the dildos, you force him to cum a second time through his licked clean socks, as this will hurt him to be sheared with socks twice in a row. Since he has made them oozing saliva, you will not slow down on his dick. This will be his punishment for enjoying himself from last time…
Note: Part of this clip has split screen effect.
Size: 2 GiB Duration: 33 min Resolution: 1920×1080 Format video: MP4

Download link:
Mistress Gaia – Dirty Sockjob.mp4