Nikki and Josie Double Team – Joey's FeetGirls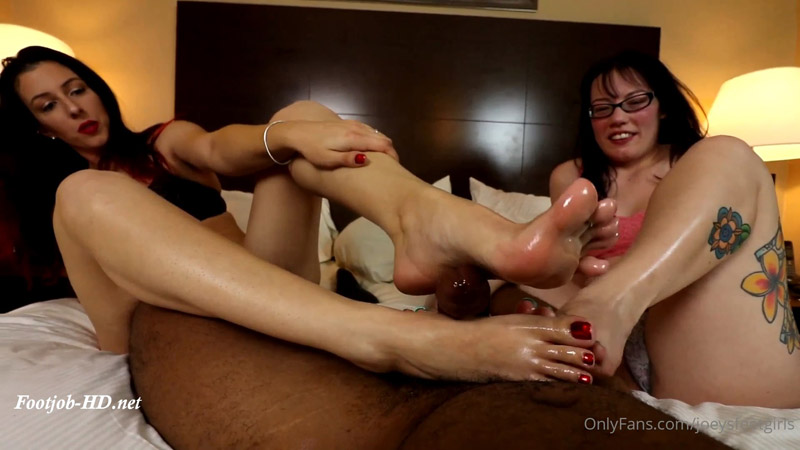 Nikki and Josie Double Team – Joey's FeetGirls
Last time Princess Nikki visited Chicago, fitting Josie into the busy schedule didn't work out. When she told me she'll be back in Chicago, I made sure getting Josie on film with her was a priority.
The scene opens with them holding their feet up over me flexing and scrunching their oiled soles. They start to rub their feet on me and honestly, I regret it immediately… I should have had them use their hands to get me started because their feet were ICE COLD. I thought this part of the scene was kind of funny so I left it in there.
Alas, the coldness of their feet does not stop me from achieving a rock hard erection that they can play with. They take turns using their toes and soles on my dick, working together to turn me on. Nikkie uses her soles to jerk me off while Josie shows off her soles. Nikki uses her toes, soles, and arches to stroke me while Josie holds my dick in place with her toes. The girls even take turns holding the camera so you can see their feet from their own point of view.
They continue to work together giving me all sorts of combinations of feet on my dick until Nikki lays on her side so that Josie can use her hands to jerk me and rub my cock firmly into Nikki's perfectly wrinkled soles. This feels absolutely amazing as she rubs my cock head side to side across Nikki's wrinkles, slaps my cock head on her arches repeatedly, and holds her ankles while she strokes my dick up and down with both her soles. I almost let go here but not before I get a reverse footjob.
They are both in underwear so I'm greeted with a whole lot of ass when they bend over to place their feet on my dick. They fool around with my dick jerking me off with one foot each. They take turns stroking my dick between their soles until Josie makes me cum using her reverse toe grip while Nikki shows off her soles.
Size: 1.5 GiB Duration: 18 min Resolution: 1920×1080 Format video: MP4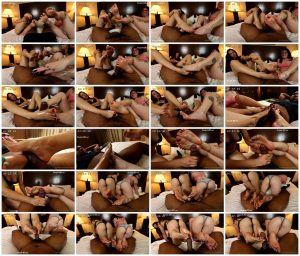 Download link:
Nikki and Josie Double Team – Joey's FeetGirls.mp4