Nylon Footjob: Early Ejaculation after Nylon Feet Strokes feat. Dame Olga – Dame Olga's Fetish Clips 1080p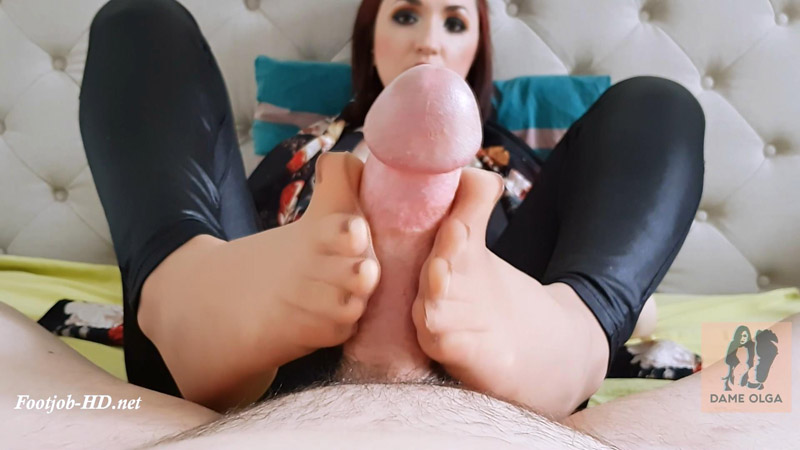 Nylon Footjob: Early Ejaculation after Nylon Feet Strokes feat. Dame Olga – Dame Olga's Fetish Clips
About the clip:
Hi, foot fetish guys! Long time no see. It has been a while since my previous foot fetish clip, so my hubby has been on sexual abstinence for weeks! Therefore he was totally excited for this nylon footjob. In the first part, you can see me stroke his cocky with my nylon feet. I play with his balls while I pet his penis. In no time, his cock gets hard.
But as soon as I grab his cock between my toes, I can feel that he is at the edge of cumming. I give him a nylon footjob for a minute or so before he cannot hold semen any longer. He cums in abundance and my nylon feet are covered in semen.
At the end of the video, I flash my soaked nylon feet and I play a little with the loads of cum. My tights are totally soaked and I can feel the warm semen through my toes. I widely spread my toes through the nylon, so you guys can have a glimpse at it. Then, I spread more cum over my arched soles. I love it!
What i wear in this video:
For this clip, I wear my lovely floral kimono as well as vintage black bullet bra. As for my legs and feet, I wear hot wet look leggings and sheer tights. I really love how hot feet get when you wear leggings plus nylon.
Size: 751 Mb Duration: 6 min Resolution: 1920×1080 Format video: MP4

Download link:
Nylon Footjob: Early Ejaculation after Nylon Feet Strokes feat. Dame Olga – Dame Olga's Fetish Clips.mp4