Nylon Footjob: Footjob in Lurex Pantyhose and Gold Sandals – Dame Olga's Fetish Clips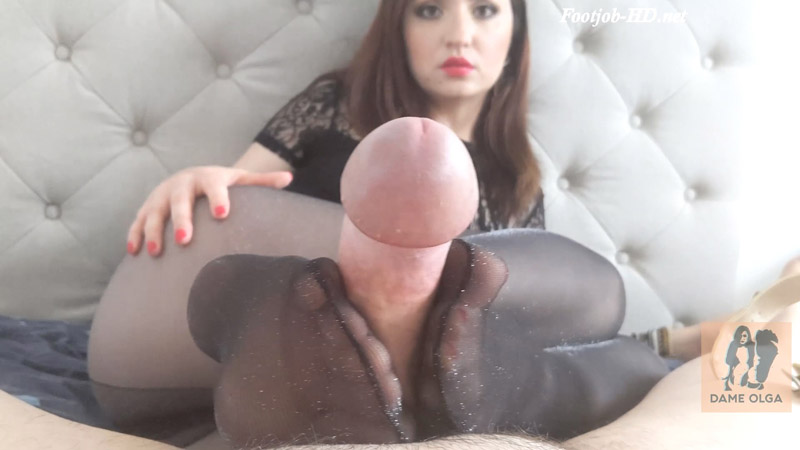 Nylon Footjob Footjob in Lurex Pantyhose and Gold Sandals – Dame Olga's Fetish Clips
This is a new clip for pantyhose lovers. In this one, I wear sexy Lurex pantyhose for glittering legs. I love how chic it looks, especially with my gold high heel sandals! In the first part of the clip, you can see me shoeplaying a little with the shoes and pantyhose on, only wearing a lace body with them.
Then, I give my hubby a few strokes with my gold shoes. His cock gets hard really quick, so I give him a short and slow footjob to tease him. But that's only the starter because when I've teased him enough, it's time for taking off my shoes. I take off my sandals, one at a time, and I play with his balls with my nylon feet.
With my feet covered in Lurex pantyhose, I give him a nice pantyhose footjob, playing with his balls and cock. I start by grabbing his cock between my soles, then I grab it between my toes. But when I feel he can have an orgasm, I draw my best card yet: I give him a slow "foot trap" while I feel cum his flowing in his penis!
Before long, he cums abundantly in an incredible blast of semen! The cumshot is huge and my feet gets totally covered. I can feel the warm cum between my toes and that's so yummy! My glittering pantyhose is totally soaked in semen and I totally love it because it's a feeling I'm addicted to. This is why I share with you a little cum play in the end.
Size: 1.5 GiB Duration: 15 min Resolution: 1920×1080 Format video: MP4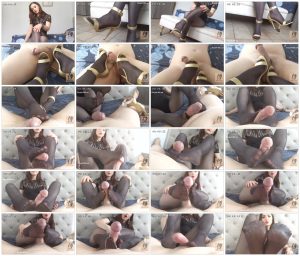 Download link:
Nylon Footjob: Footjob in Lurex Pantyhose and Gold Sandals – Dame Olga's Fetish Clips.mp4