Nylon Footjob: Pantyhose Feet vs. Pantyhose Cock – Dame Olga's Fetish Clips 1080p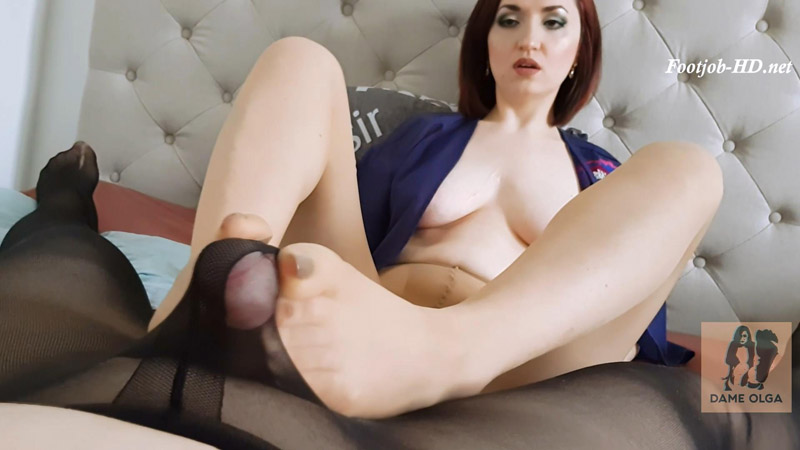 Nylon Footjob: Pantyhose Feet vs. Pantyhose Cock – Dame Olga's Fetish Clips
How much do you like nylon? Are you the kind of guy that secretly wears pantyhose under his jeans? If yes, this video is just for you. My lucky hubby wears a pair of black sheer pantyhose and I wear nude sheer pantyhose for a hot 100% nylon footjob.
At first, I stroke his cock under his pantyhose with my nylon feet. It is really pleasant to feel the nylon rubbing over the other nylon! The strokes are smooth and full of thrills. This way, I toy a little with the balls and the penis until it is rock hard.
Then, I give my hubby a nylon footjob as I try to grab his nylon cock between my nylon toes. The frictions are sensational. Before long, he cums a blast in his own pantyhose. The cumshot is blocked by the pantyhose but it totally gets soaked. It is so exciting that I cannot help but dip my toes into the semen and play with the cum, soaking my pantyhose too.
What i wear in this video:
In this clip, I wear a satin robe as well as a nude sheer pantyhose for a nylon footjob. I also wear a sexy anklet. As for my hubby, he also wears a pantyhose; black sheer ones. The friction between the two pairs of tights is absolutely thrilling!
Size: 1 GiB Duration: 11 min Resolution: 1920×1080 Format video: MP4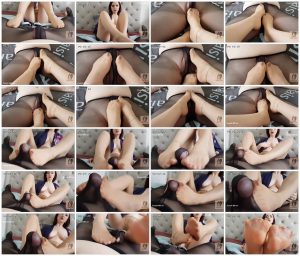 Download link:
Nylon Footjob: Pantyhose Feet vs. Pantyhose Cock – Dame Olga's Fetish Clips.mp4