Pearl Sinclair's Pale Peds – Joey's FeetGirls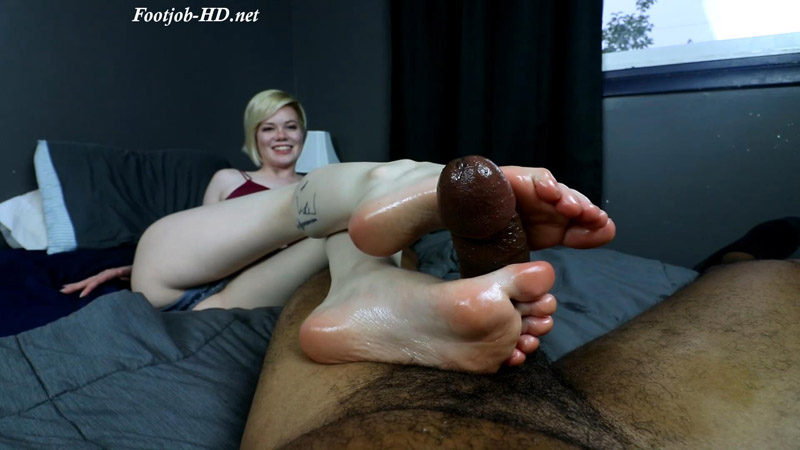 Pearl Sinclair's Pale Peds – Joey's FeetGirls
Pearl Sinclair makes a road trip to Chicago and I make sure she stops by my house. Her skin is pale as if she never spent any time in the sun at all. Me? I just got home the day before from a trip to Punta Cana so my skin is dark and golden like a piece of fried chicken. Her pale skin looks great in contrast to my dark cock.
I had been following Pearl for some time on twitter hoping to meet her when I heard she would be in the midwest. She comes to my house and I take in her petite frame and tiny feet. The skin on her soles are full of wrinkles and textures that they look amazing up close.
I set up the interview and ask her a few questions before she starts stroking my dick on camera. She likes to stroke my cock with her hands so I let her integrate a lot of handjob into her footjob. She slaps my cock against her feet and rubs my dickhead into her soles.
She starts out with a normal front facing footjob but towards the end I have her lay on her side and that's when she really excels. She holds my cock in place with one foot while the other one draws huge circles around my frenulum using both her toes and her arches. She's keeping me on the edge, precum dripping out furiously all while I try to hold onto my orgasm as long as possible. While she is moving slow and deliberately, she keeps me so close to orgasm that it almost hurts, Then, all she has to do is speed up her stroke for a couple of seconds before I start wasting my seed all down her sole.
Size: 1.3 GiB Duration: 14 min Resolution: 1920×1080 Format video: MP4

Download link:
Pearl Sinclair's Pale Peds – Joey's FeetGirls.mp4