POV Footjob with Nude Fishnet Stockings – Dame Olga's Fetish Clips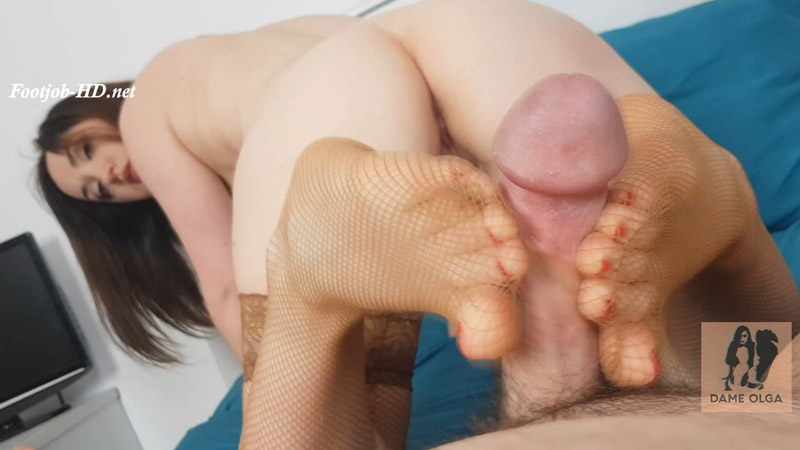 POV Footjob with Nude Fishnet Stockings – Dame Olga's Fetish Clips
I do not wear anything but my nude fishnet stockings. I love how sexy my feet look with these! This way, my tits, my cunt and my ass are revealed in plain view. As for my nails, they are red hot which make very sexy small toes. By the way, what I like the most with fishnet stockings is that they reveal how orange-ish my soles are!
But before jumping into action, you can see how I put my pair of nude fishnet stockings, a good opportunity for me to tease with my orange-ish soles and cute small feet. While foot playing a little, you can see me (almost) naked.
After a while, I play with my hubby's cock and balls by stroking it with my nylon feet. I then give him a slow footjob with my red painted hot toes. For more fun, I give a footjob in different positions, between my toes or my soles, even masturbating the small cock doggy style, with my ass revealed.
In the end, I squeeze my hubby's penis between my toes, up and and down, until he reaches the climax. Before long, he cannot help but come in loads of cum! I love it! With so much semen, I get really kinky and I cover my toes and soles in cum. I just love to cum play, but I think you might know this now.
Size: 1.2 GiB Duration: 12 min Resolution: 1920×1080 Format video: MP4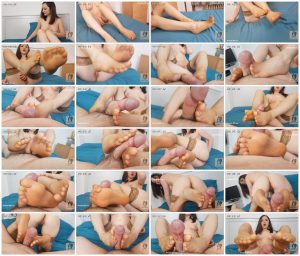 Download link:
POV Footjob with Nude Fishnet Stockings – Dame Olga's Fetish Clips.mp4