Quinn Makes Me Cum Twice – Joey's FeetGirls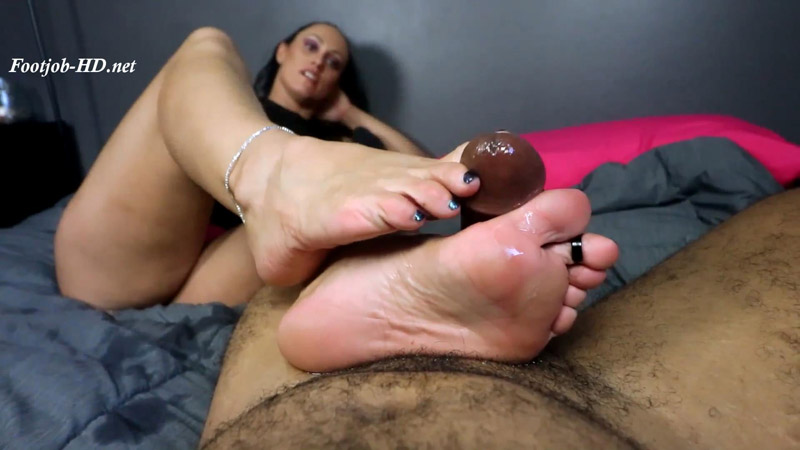 Quinn Makes Me Cum Twice
The first time I met Quinn, I knew that I was gonna have fun with her. I hadn't even finished cumming on her feet the very first time and I knew I needed to see her again. So of course when she told me she would visit me for another video, I got right on it.
She shows up with her bff (BBW Sarah) again, a little less nervous this time though. Sarah enjoys watching anyway so no big deal. We skip the small talk this time and get straight to action. I lay down on the bed and she lays on her stomach between my legs, both feet in the air behind her exposing her soles.
She stares at my cock as she teases me to erection, slowly stroking it and squeezing it between her fingers while her toes wiggle and scrunch behind her. My swollen head wants to feel her feet so she lays on her side and places my dick between her soles. I apply a liberal amount of oil and she starts rubbing my dick in big slow circles with her wrinkled sole. She alternates between rubbing her foot in a circle, rubbing her arch back and forth across my dick so I can feel all her wrinkles, and clasping her feet together into a pocket and jerking me.
About 3 mins into this, I'm breathing heavily and precum is draining out of my cock. I can't hold on much longer. She scrunches her feet up so I can see and feel her wrinkles and I lose control. She even pauses to help me hang on but its no use. Maybe a dozen or so circles she rubs and I start squirting cum, Sarah in the background is verbally disappointed with my inability to last any longer.
I turn the camera off and I think we're done filming. I'm only at about 9 mins but I figure that's enough to make a good video. I'm still laying naked on the bed and we're all bullshitting and Quinn wonders if I can go again already. Sarah has seen me go multiple times at once so she sorta chimes in that I just need a little help and my dick will stand tall. Quinn, intrigued, starts massaging my dick. She's rubbing my balls and stroking my shaft which is still kinda soft. Sarah turns on the camera and then the unexpected happens… Quinn bends down and starts swallowing my cock.
She works it like a champ. Wow. This girl is a freak. She takes it all the way in and then sucks just the head up and down rapidly. My dick does not take long to stiffen. Sarah is recording from her cell phone while laying right next to me. Her feet are touching Quinn's arm, and then Quinn decides to grab her foot and place it on my dick and to suck them at the same time. She jerks me off while she sucks Sarah's toes, then she uses them to stroke my dick while she sucks me.
Now that I'm good and hard, I sit on the floor and throw Quinn's legs over my shoulders so I can fuck her arches good. Sarah continues to record with her cell phone from over my shoulder and I add the second angle in a smaller window so you can see both angles simultaneously. I start by guiding her, I hold her feet together and fuck her arches. I let her take over and she rubs my cock with her foot. Eventually I grab her arches again and squeeze them tight on my dick while I fuck them as hard as I can causing me to blow my second load between her feet.
Size: 1.8 GiB Duration: 18 min Resolution: 1920×1080 Format video: MP4

Download link: