Ruined Barefoot Footjob – MsChristina
Ruined Barefoot Footjob – MsChristina
This custom video starts out with me squirting a healthy amount of oil on Trampleguy's junk. His junk is presented to me through a hole in a customized cutting board. The cutting board was modified with a hole in the center which keeps his cock and balls restrained and provides a solid surface for me to do whatever I want to him. Usually, I use this cock board to stomp on Trampleguy's balls, and, eventually, I stomp on both his cock and balls in this video, too. But first I give him an awesome footjob. I am an expert in giving footjobs so I made sure Trampleguy got real close to squirting his load all over the board. I used My long, sharp, red toenails to scrape his cock and gouge his balls while he admired my silver ankle bracelet. As he got close to a climax, I would stomp on his cock and balls to ruin his orgasm. Then continue to massage his slippery cock and huge ball sack with my soft bare feet until he again got close to a happy ending. But, I made sure he never got that satisfaction by stomping it away.
At the end of the video, I had my editor include some bonus footage showing how I use my toes to get TG's swollen junk free from the cock board. Very interesting.
This video was shot with 3 cameras so you get the best view possible. One camera was real close to the action as you can see in the preview. The camera was so close to TG's cock that I thought for sure I splashed oil on the lens. Don't worry… I didn't.
Size: 929 Mb Duration: 10 min Resolution: 1920×1080 Format video: MP4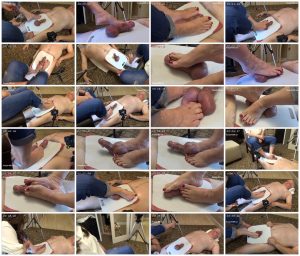 Download link:
Ruined Barefoot Footjob – MsChristina.mp4