Samantha Summers' Full Scene! – Barely Legal Foot Jobs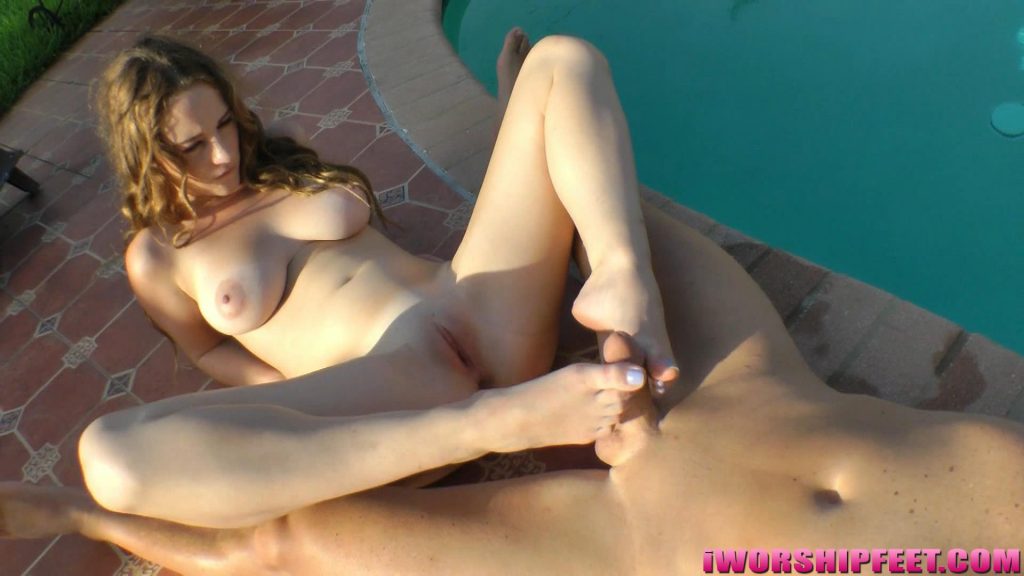 Meet Samantha Summers! This is her FULLSCENE. She's a hot blonde beauty I worked with in Florida. This is a great outdoor scene and she also gives her FIRST FOOTJOB next to a pool. She dips her bare feet in the pool and gets them nice and wet and waterlogged. Also, in this full scene, you get her solo foot tease, tease in the Pose Position, foot worship for the first time and also in the Pose, as well and of course the footjob finish where she takes a humongous load to her feet. I also discounted this clip, too.
She's just one week in and this is her VERY FIRST FOOT FETISH SHOOT OF ANY KIND. This girl immediately became a favorite. I returned to my favorite backyard setting in Florida and shot another outdoor scene. It was a hot, humid sweltering day and the great thing about this super cute 23 year old is, that she loves to wear her Jordans! She has TONS of sneakers and all kinds of Jordans. She also wore NO SOCKS. That means SWEATY FEET! Samantha has really nice high arches and great wrinkled soles and soft creamy fair skin. You'll see her peel off her sneakers to reveal her wet sweat glistened feet and then holds up her soles to the camera. Her size 7 feet are perfection! Also, check out her purple toenail polish, too. You'll see her in the Pose Postion and laying on her stomach with her soles facing up and also on her tippy toes.
This is also her FIRST FOOT WORSHIP EVER! She is just too freakin hot. The humid Florida weather is hot but Samantha is sweltering! See me lick her soft wrinkled soles and and suck her toes in various positions including The Pose. This girl loved this so much, she started to moan and suck her finger. It's so HOT! She's an incredible girl with a great body and super calves. She ran track in high school. I told her she has cheerleader calves, lol. She can also do a mean toe spread and I licked her bare feet while she did that, as well. You won't want to miss this sizzling hot foot worship scene!
She is only ONE WEEK in the adult biz and this is her very first foot shoot and her FIRST FOOTJOB!! I don't know how I keep finding this hotties but the bar has certainly been raised each time. Samantha is so fun and bubbly, just a happy girl who aims to please. We return to my favorite backyard to do a POOLSIDE FOOTJOB! She was so concerned about doing it right and me being able to cum from a footjob. She doesn't think a guy can get off from a girl's feet on their cock. She'll find out soon enough, she is quite skilled and talented with her soles, arches and toes. She does such a fantastic job by knowing how I liked it and started things off my dipping her feet in the pool to make them nice and waterlogged and wet. We begin by me licking her bare feet and her playfully stroking my cock. She then strokes my dick with such a perfect technique, I knew this pop shot was totally covering her pretty size 7 feet with a huge cum load and she holds them up to the camera for you to see!
Starring: Samantha Summers and John.
Size: 1.2 GiB Duration: 19 min Resolution: 1920×1080 Format video: MP4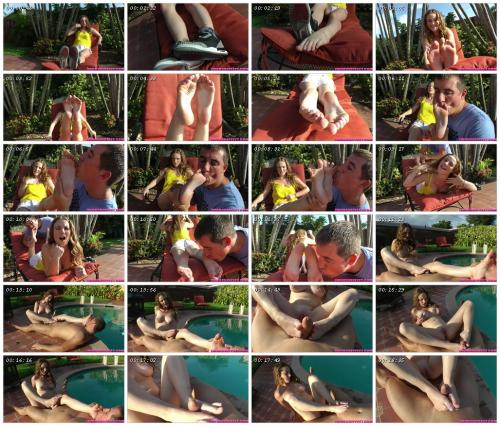 Download PrimePlus:
Samantha Summers' Full Scene! – Barely Legal Foot Jobs.mp4
Mirror:
Samantha Summers' Full Scene! – Barely Legal Foot Jobs.mp4