Secretary Alina, Dominant Footjob for her Boss – Aballs and cock crushing sexbomb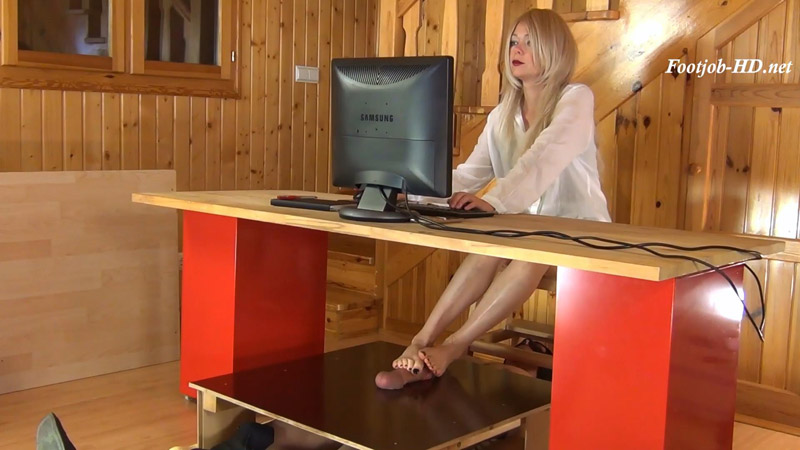 Secretary Alina, Dominant Footjob for her Boss – Aballs and cock crushing sexbomb
Unique carrot and stick footjob by Mistress Alina
Customer feedback:
"Secretary Alina, Dominant Footjob for her Boss this was brilliant Alina looked sexier than ever wearing her red lipstick and facial expressions to for so sexy and alluring and Alina at her best. I loved the variation of Alina's performance from start to finish with her long legs on show and really nice high arch feet with black toe nails was super sexy. Her smile really got me too I think this is the sexiest I have seen her in regards to her face shots.
.The scene near the end where she continues for what seems a age with her hard foot slaps and kicks was stunning to see it looked like she took you to your limit with the noise you made which was a real turn on.
Quite simply this is one of my all time favourite videos and in my top 3 for a non trample video. Alina looked smoking hot throughout and together with her amazing performance had me glued to it from beginning to end. Her feet looked sexier than ever and her foot slaps and kicks made this a very special and unique video. Congrats on making a stunning, varied and different to the norm video with a Alina at her very best."
Secretary Alina and her boss have stayed in the office after hours. He has given her a lot of work, that must be finished tonight. But the longer she has to stay the more she gets pissed off. Once she has had enough and she has opened his pants, pushed him under her desk, placed the cockbox above him and pulled his cock and balls through the narrow hole. Now it is Mistress Alina who rules.
She has taken off her shoes and places her bare feet right on his manhood. Her soft soles feel so exciting on his dick, that it gets rock hard within seconds. But now as she has him where he belongs, Alina turns back to work.
She only uses his genitals as a footstool while she is typing, but conscious of her attraction she starts a nasty game. For the next more than 20 minutes she will give him a never seen carrot and stick footjob.
Within seconds Alina changes between sensual foot play and painful cock and ball torture. Innocently she is texting on her computer while she rubs his cock between her soles and then she kicks his cock and balls brutally with her feet.
The Goddess plays with her toes on his frenulum, taking him to the edge, but she doesn't allow him to cum too fast. She lets him smell and lick her feet and the next moment she will place her heel in the middle of his ballsac. Her slave whimpers from the pressure on his nuts, but Alina doesn't even think about releasing him. To the opposite she crosses over her other leg to increase pressure and then she presses her heels down on his testicles as hard as she can and as he doesn't stop whimpering she even stirs them with her heels.
As she finally releases him you can see a white spot on his scrotum, but Alina doesn't see it. Anyway she wouldn't care. She decides to stomp his genitals under her soles. And now she stops working. She enjoys his screaming under her hard kicks too much and she is absolutely merciless. Like a fury she beats up his cock and balls under her heels. Nobody else is in the office, you can scream as loud as you can. It doesn't help you. The Mistress has to laugh as she finally allows him to breathe.
Time to finish him: Again she puts one heel on his scrotum and squeezes his balls. With her other foot she rubs his cock head in a rough way against her ankle.
It hurts and it excites and Alina will not stop before he cums. She has turned back to her text and while she keys it in so innocently, she rubs the living daylights out of her victim's genitals.
Suddenly he cums in a juicy orgasm, Alina feels the warm sperm running down her ankles and she smiles triumphantly while she keeps on texting and rubbing him empty until the last drop.
But she still isn't finished. She creams her feet and soles with his lotion, she rubs his slimy cock and balls in a cruel way under her soles, making him whimper and scream again.
And as she has broken him, she goes home.
Size: 2.3 GiB Duration: 28 min Resolution: 1920×1080 Format video: MP4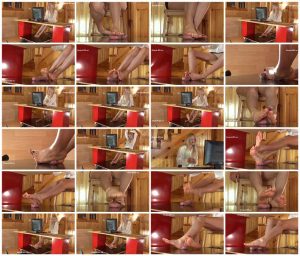 Download link:
Secretary Alina, Dominant Footjob for her Boss – Aballs and cock crushing sexbomb Footjob-HD.net.mp4