Slow Barefoot Footjob In Skinny Jeans – Dame Olga's Fetish Clips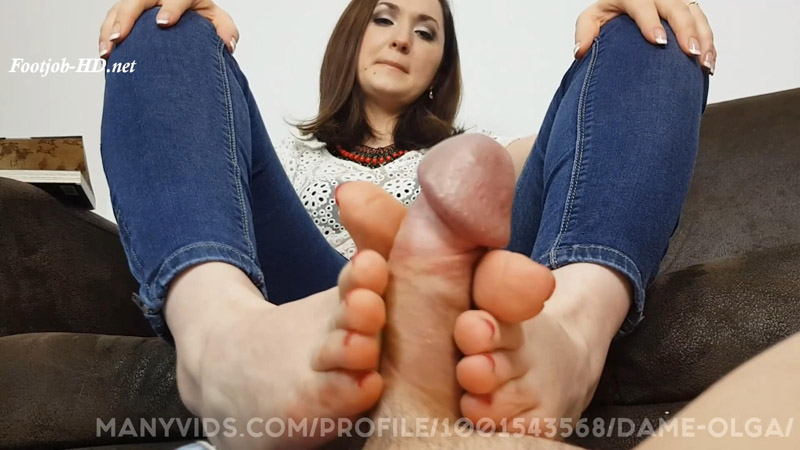 Slow Barefoot Footjob In Skinny Jeans – Dame Olga's Fetish Clips
So it happens again: I'm casually sitting on the couch, enjoying a manga, when my hubby feels excited. Like a little puppy, he crawls to my feet and begs for foot action with my sweaty bare feet. Well, I'm in a kinky mood so after teasing a little with my high heel pumps, I take my shoes off and have fun with his little stiff penis.
But for this footjob, I've decided to make it smooth and slow. That's why I languidly play with his dick and then masturbate him between my toes. At some point during the video, I rub my hubby's penis with one foot while I pull the other out so he can smell my sweaty orange-ish soles. They smell a lot because I was wearing my pumps without tights! But I know it is highly appreciated by footslaves.
When edging the end of the footjob, the masturbation gets slower and slower and the pleasure is more and more intense! I can feel the dick getting harder between my feet and I can feel how the cum is rising! I just love it. And then, he comes while still gently caressing the dick: he slowly cums over my feet. The semen is hot and I can't help to play with it between my soles and toes, as usual!
What I Wear In This Video
I did not plan on recording this video in the first place, that's why I wear this casual outfit. But sometimes, it gets out of control! I wear a pair of skinny jeans which I love because it makes pretty feet, especially when wearing high heels. I also wear a pair of high heel nude pumps without tights, that's why my feet are sweaty. So when I give my hubby a footjob, I've taken my shoes off and my feet are a little smelling!
Size: 1.3 GiB Duration: 13 min Resolution: 1920×1080 Format video: MP4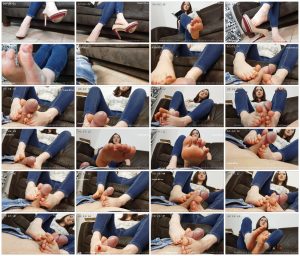 Download link:
Slow Barefoot Footjob In Skinny Jeans – Dame Olga's Fetish Clips.mp4