Worship My Feet and Suck His Cock, He Cums On My Pantyhose For You – Kinky Foot Girl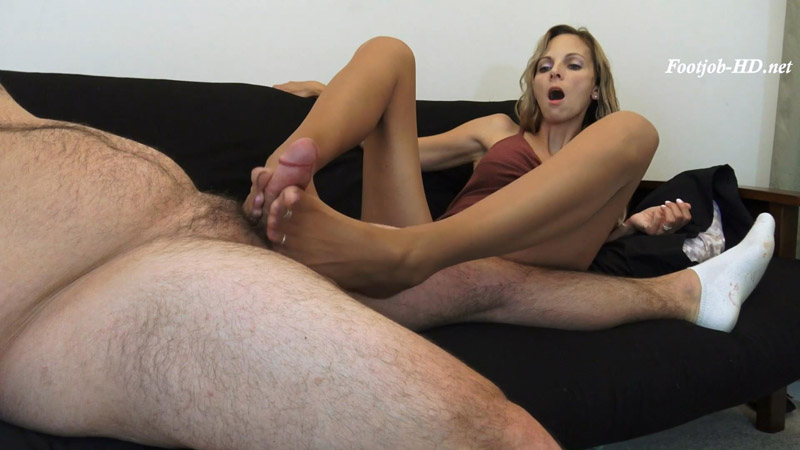 Worship My Feet and Suck His Cock, He Cums On My Pantyhose For You – Kinky Foot Girl
And here we are. Me wearing these ultra sheer nude pantyhose, and you before my feet. I know how much my feet drive you crazy, especially in these pantyhose. Maybe I will let you worship them, but you have to do a little something first. I know you'd do anything for my feet, so I invited a friend over. Remember, you'd do anything right?
My friend sits next to me on the couch and then the fun begins. I wrap my feet around his cock and start gently stroking it, and while I do I want you start sucking his cock. He gets up to give you a better angle. He sticks his cock in your mouth while I show you my feet and tell you to suck his cock like it is my toes. Get it all in there. As he thrusts his cock in your mouth for a moment, he backs up and you can worship my feet for a bit. Worship them while he plays with himself right in your face.
Guess what, his cock is ready for you again. Suck it some more, put it in your mouth while I have my feet next to you. You are enjoying this aren't you? Almost, maybe more than my feet in your mouth. You really wish it was my feet on your cock though don't you? He rubs his cock all over my soft nyloned feet, his pre-cum making them moist.
I begin jerking his cock off with my feet again, telling you how much you wish it was your cock in between my feet and that all you can do is sit and watch He stands up and then shoves his cock in your mouth again. Come on, get that big cock in your mouth. He thrusts his cock in your mouth and then I wrap my feet around it, under his balls and thrust his cock in your mouth some more. You like that dick in your mouth don't you? Look at you, sucking cock just to get to my pantyhose.
He lays back down and put my feet on his cock again. Bracing it with one foot and rubbing the other, and then gripping it with my toes. Okay, that's enough watching. Suck on his cock while I hold it with my feet. Take it all in your fucking mouth. Come on, get it in there. Taste the pre-cum. Put that dick in your mouth while I jerk it off with my feet. Now watch as I use my feet to make him finish, all over my nyloned feet.
I am going to send you these pantyhose and you are going to worship them, cum and all, and you will do it because my feet were in them and you can't resist.
Size: 1 GiB Duration: 11 min Resolution: 1920×1080 Format video: MP4

Download link:
Worship My Feet and Suck His Cock, He Cums On My Pantyhose For You – Kinky Foot Girl.mp4