440 Perfect Gift from a Beautiful Woman – Angel The Dreamgirl 1080p
440 Perfect Gift from a Beautiful Woman – Angel The Dreamgirl
Angel is driving to her meeting. She sits in her sleek sportscar wearing a tight white top, tight light blue pencil skirt, and strappy open black leather heels. Suddenly her car breaks and stops on a desolate country road. Angel does not know what to do. she does not understand the inner-workings of cars and how to repair them. She swings her shapely body out of the car, opens the hood to see what's wrong. She has no idea and looks so innocently unaware, sleeplessly helpless, naively vulnerable and amazingly sexy as she stands over her sleek car with her ever so much more sleek and shapely figure. A gentleman sees her broken down car but is more interested in her prominently protruding breasts and sexy hourglass figure bending over her car! Obviously, he stops to help. He tries something while Angel presses her high-heeled foot on the gas pedal saying, "Come on baby, start for me" but the car fails to start. The gentleman was pleased she could not zoom away. all he remembered was her saying "Come on baby.".
The gentleman takes Angel for a ride in his car and off they go to get help with Angel's sleek sexy body sitting in the passenger seat. The view along the country road is great but the view of Angel's shapely legs in her snug skirt is far more distracting. They talk and the gentleman's eyes keep spying her legs. Angel loves the attention and asks if she can take off her high heels. He becomes fully aroused watching her unbuckle her shoe's straps. Angel keeps teasing him by playing with her black stockings, taking them off, slipping them on her arm and teasing the gentleman's fully erect and throbbing cock. "Do you like my feet?" Angel asks. "Do you like my feet bare or adorned in nylon?" "In nylon" he replies, and Angel gives him a leg job while bending over displaying her pear-shaped derriere in her tight blue skirt as her feet strokes his cock.
Finally, Angel gives him a hand job that put pushed him well over his ability to hold his sperm in, and he soaked her black nylons all over her ankles and feet. As appreciation for him giving her a ride, she gave him her musky smelling wet nylons and a most mischievous cute smile. What a perfect gift from a beautiful woman!
Size: 1.8 GiB Duration: 18 min Resolution: 1920×1080 Format video: MP4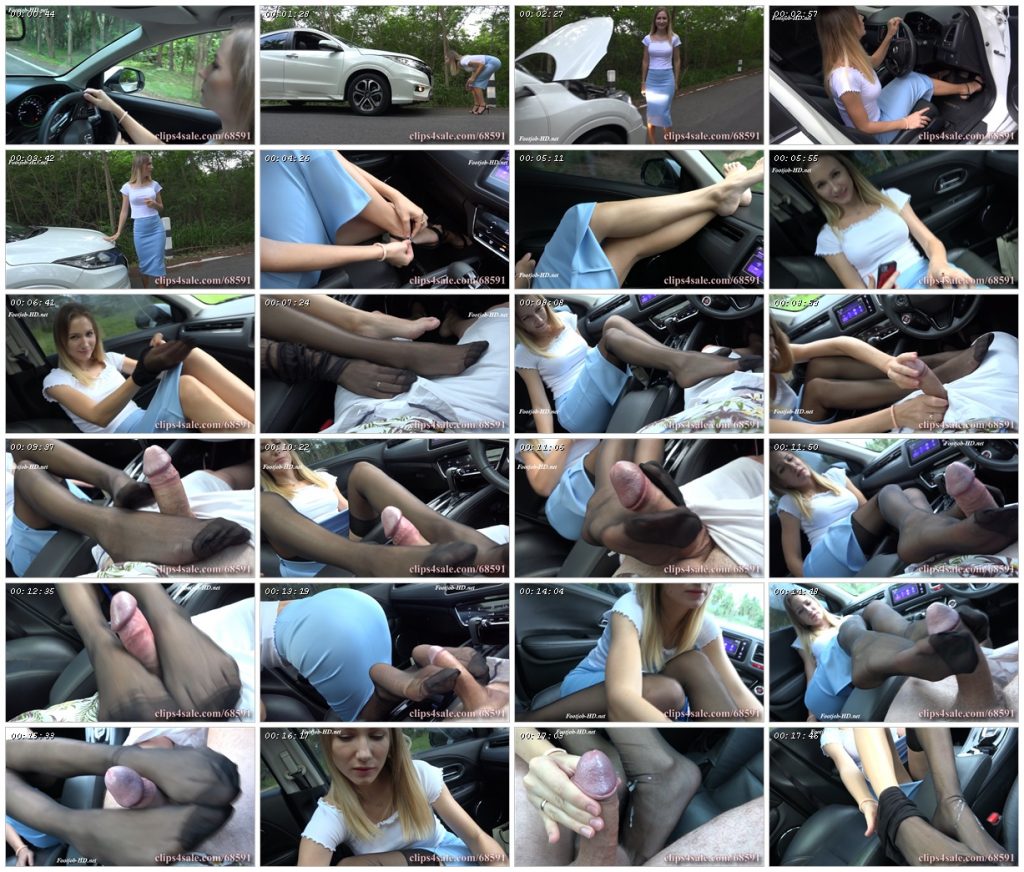 Download link:
440 Perfect Gift from a Beautiful Woman – Angel The Dreamgirl.mp4