Big Amazon Feet! – Feet of Philly – Allison Tyler
If you like TALL GIRLS with BIG FEET, you will LOVE Allison Tyler's FULL SCENE. This is her entire scene from solo foot tease, to foot worship, to footjob with a great ending with her getting her plump wrinkled soles splattered with cum. She has size 9 feet. I also discounted this clip, as well.
You guys are gonna LOVE Allison Tyler! See her EXTREMELY highly arched size 9 feet. She also has really nice PLUMP MEATY SOLES. Her face is gorgeous. A real natural beauty and if you are a lover of tall women. this is THE girl for you! She is 6′ tall and with long legs. She works out a lot and spends a lot of time on the gym and it really shows. I have her wear black closed toe heels and it gets her feet nice and sweaty. She starts out by dangling her heels for you and does a great foot tease. She also gets pedicures regularly and has nice French tips. Allison even wears a toe ring on one of her feet, a toe ring that she says, never comes off. Allison has the HIGH ARCHES of a ballet dancer, which she did for years. She's a girl I always wanted to work with and on this LA trip, I made sure I booked her when I was out there this Summer. See her do a toe point and wiggle her toes. Lots of great closeups, too!!
This also features some bonus solo foot tease action in the Pose Position and then the HOT foot worship with Allison Tyler and her huge size 9 feet. I love this girl's super high arches and plump meaty soles! She starts out in the Pose Position as she lays flat on her stomach on the couch. She lays her feet flat with her soles facing up. She wiggles her toes and scrunches them as well enabling you to see the deep wrinkled in her soles. She then brings her feet towards her body and you get a great angle in the Pose. She also goes up on her tippy toes in some fantastic closeup angles! From there, I enter the scene and I lick her bare feet. She rubs my cock over my khaki shorts and I lick her high arches. She has incredible size 9 feet! I lick her soles, her toes and in between each toe. I also lick her legs and the tops of her feet. Great stuff here, gents!
I have her lay on her stomach on the couch and I lick her bare feet and wrinkled soles. Perfect arches, and perfect for licking. Enjoy these great closeup camera angles. She really gets into it and you can tell by her facial expressions and reactions. I then rub her ass while I lick her feet even more and I also lick those super high arches as she goes up on her tippy toes. Great over the shoulder angles, too as you feel like you are right there licking those perfect high arches! I then lick in between each toe and suck each toe, including the tops of her feet. Don't you just love her long muscular legs? At the end, Allison undresses as she gets ready for her footjob scene.
Allison is very tan and has great tan feet. The tops of her feet are very tan, too, which I find extremely HOT! She is 24 years old and has been in the adult business for a few years now and is quite popular. She is very selective on who she works for, so it was definitely an honor to work with her. Another thing I ABSOLUTELY LOVE about Allison Tyler, is her EXTREMELY HIGH ARCHES!!!!! Seriously, guys, her arches are amazing! I just loved to lick them and even better to have them wrapped around my cock. She even gives an excellent ARCH JOB!! She removes her clothes and I start off with some foot licking, sole licking and toe sucking while she plays with my cock and gets me rock hard within seconds. She is very interactive and repeatedly moans and asks me if I like it and if it feels good. I love it when a girl aims to please and cares that she is doing a great job. This is one of the best footjobs I have ever reeived. She just has an outstanding motion and technique. It's hard to explain until you see it or better yet, feel it! She has great, huge natural tits. You can also tell she works out a lot as she has an impeccable body. I cannot wait to work with this girl again on my next LA trip!
Starring: Allison Tyler & John.
Size: 1.0 GiB Duration: 23 min Resolution: 1280×720 Format video: MP4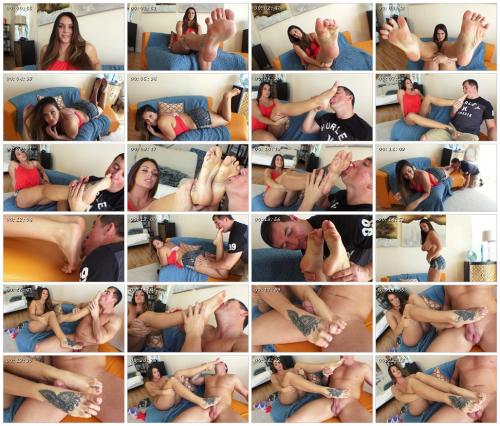 Download link:
Big Amazon Feet! – Feet of Philly – Allison Tyler.mp4