Cum in Shoes: Shoejob in Soft Camel Flats and Nude Stockings – Dame Olga's Fetish Clips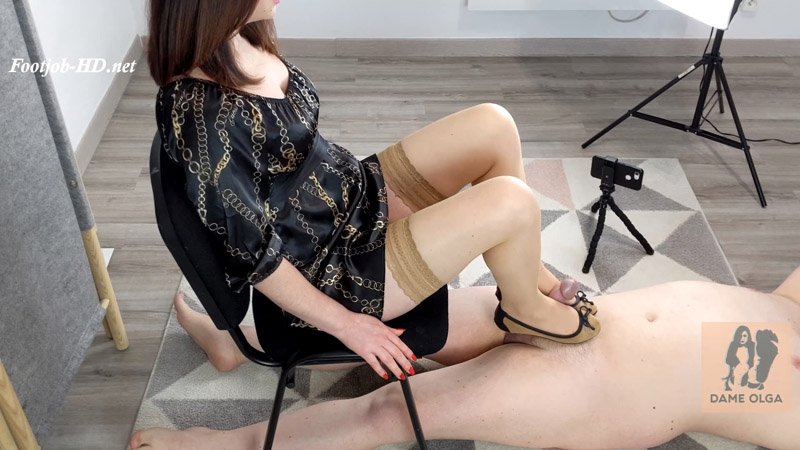 Cum in Shoes: Shoejob in Soft Camel Flats and Nude Stockings – Dame Olga's Fetish Clips
This pair of ballet flats is probably one of my favorite pair of shoes. They are indeed casual but also so, so sexy! Flats connoisseurs cannot resist their toes' cleavage, how they fit and especially how they smell. With their soft material and smooth soles, it is as if they were designed for shoejobs.
First, I shoeplay a little with the shoes on and I spread their smell by popping my heels out of the flats. I dangle the ballet flats so you can see my feet in nude stockings. I also wear an anklet for a chic touch and an incredibly sexy dress that reveals my stockings. After warming the atmosphere up, it is time for a flatjob.
I have my hubby lay under my chair and, with my flats on, I softly trample his balls and his cock. After stroking his genitals with my flats for a little time, I grab his cock between my shoes, and I begin back-and-forth. During the shoejob, his cock gets hard and at some point, I even slip his cock between my sole and the shoe.
But before cumming over my feet, I have him kneel behing me. With heels popped, I have him come masturbating his cock so all the semen squirts into my flats. This is perfect, he does not miss one drop of cum! When I feel the warm cum over my nylon heels and inside my ballet flats, I put my shoes back one. I love this feeling!
Size: 1 GiB Duration: 11 min Resolution: 1920×1080 Format video: MP4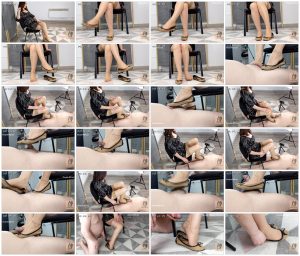 Download link:
Cum in Shoes: Shoejob in Soft Camel Flats and Nude Stockings – Dame Olga's Fetish Clips.mp4