Italian Fashion Model Footjob – Nothing But Footjobs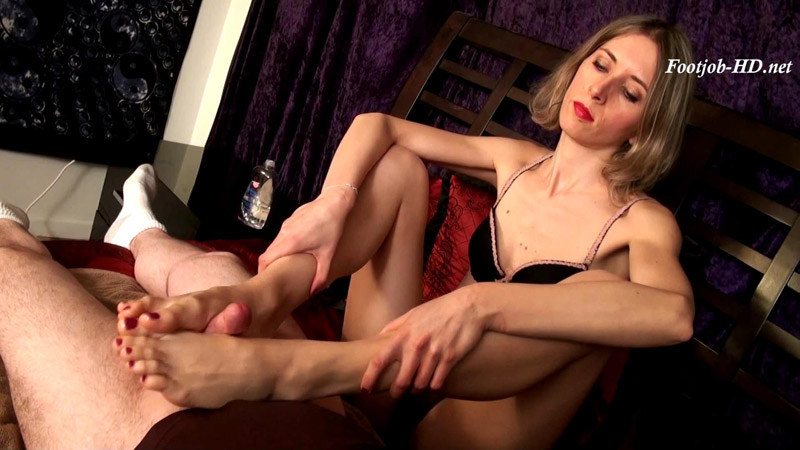 Italian Fashion Model Footjob – Nothing But Footjobs
Ilana is a beautiful fashion model from Italy. Her gorgeous size 10 feet are pampered, silky soft and extremely sensitive, with very long toes and high arches. Ilanas never heard of a footjob before today, but shes intrigued by the idea, and wants to see if she can make a man cum with just her feet.
Ilana has no experience in using her feet for pleasure but she comes off as a natural. She uses her big feet to clasps his cock between her toes. She pulls and squeezes on his member with her long toes until hes sporting a huge erection! She dribbles baby oil on her feet and slides her slick soles up and down his rock hard shaft, driving him crazy, making the head of his dick bright red with frustration. Ilana smirks with satisfaction and occasionally whispers in Italian as she watches his thick cock fuck her feet. She expertly brings him right to the edge by squeezing his head and shaft with her long toes, even sticking his huge cock between her toes, making his hips thrust up and down with fruitless frustration!
Ilana edges him for 10+ minutes, using a combination of her arches, toes, and fucking his cock between her toes to drive his cock crazy. When shes finally ready to see him cum, she switches to her arches and firmly pumps his shaft until he finally blows his load! Thick white ropes of cum spurt all over her bare feet, dripping between her toes as she continues to milk every last drop from his twitching cock!
Size: 1.1 GiB Duration: 13 min Resolution: 1920×1080 Format video: MP4

Download link:
Italian Fashion Model Footjob – Nothing But Footjobs.mp4