Nylon Footjob: Hot Footjob in Brown Vintage Stockings and Incredible Cumshot on Nylon Soles – Dame Olga's Fetish Clips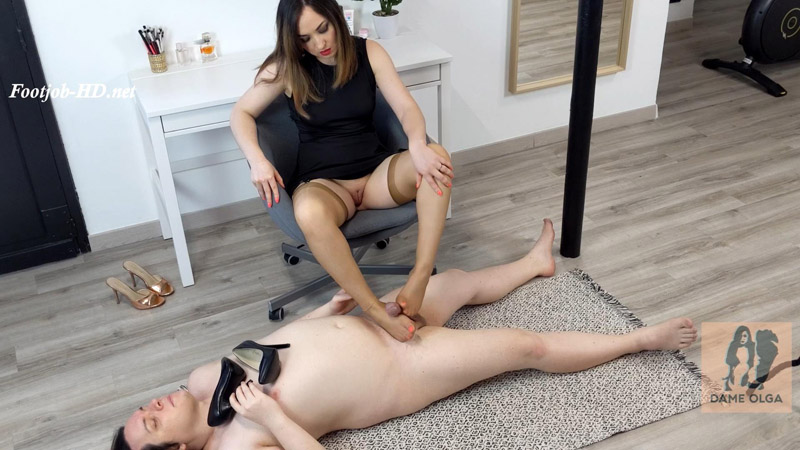 Nylon Footjob: Hot Footjob in Brown Vintage Stockings and Incredible Cumshot on Nylon Soles – Dame Olga's Fetish Clips
Today, I have been working in my little black dress and high heel pumps because of important business meetings. Under what looks like your formal outfit, I wear a garter belt and brown vintage stockings. Because of how hot it is, my feet sweated a lot and my stockings and shoes have a strong smelling and, in this case, I perfectly know that my hubby cannot resist a nylon foot fetish session.
After showing off a little, I sit on my armchair and start a short shoeplay and shoe dangling in my black pumps. I also up my skirt so one can see my thighs and how sexy my garter belt and my stockings are. I love vintage stockings and this color looks especially sexy. After a while, I take of my shoes and they smell a lot! After showing my soles and spreading my toes in nylon, it is time for a nylon footjob.
For this footjob in stockings, I decide to make it last a little long. I slowly rub his cock with one foot, and I give him the other so he can taste it. He can suck it, lick and, above all, breathe smelling the warm foot-flavored nylon. Then, I decide to give him a little extra: I offer him my smelling pumps so he can sniff the shoes while I give him a footjob.
I grab his cock between my toes, then between my soles, up and down, quicker, and quicker. His cock his so hard that I can feel his pleasure rising between my feet, through the nylon. I know how hot is a footjob, but I perfectly know the extra feelings granted by the thin nylon. But before he comes, I stop touching his cock and turn around, presenting my soles for the grand finale!
When he is ready to cum, I have him masturbate over my feet with my soles ready to receive a cum tribute. And before long, he blasts a large amount of semen over my feet. It is an incredible cumshot, seriously! My vintage stockings are totally soaked with cum and I can feel the warm semen through the nylon and between my toes.
Size: 1.4 GiB Duration: 15 min Resolution: 1920×1080 Format video: MP4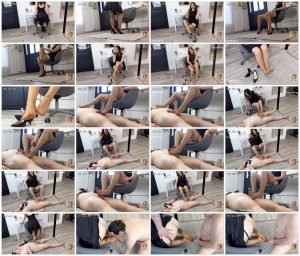 Download link:
Nylon Footjob Hot Footjob in Brown Vintage Stockings and Incredible Cumshot on Nylon Soles – Dame Olga's Fetish Clips Footjob-HD.net.mp4