POINT OF VIEW FOOTJOBS 13 – JB Video – Ashley Fire, Loni, Catalina MP4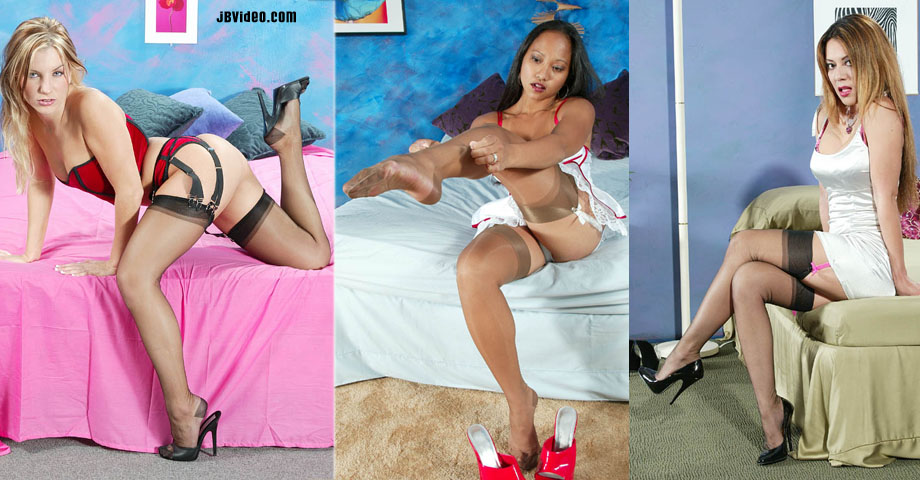 This starts out with Ashley Fire in a short dress with black RHT stockings and black open toe slides! She teases JB with her legs and pretty size 6's and is soon giving him a foot job as she sits in front of him! Laying back she strokes him between her arches and slides her red painted toes on his cock. Taking off the dress she reveals a red corset style bra and panties with an 8 strap garter belt as she strokes him doggie style. Turning over she strokes him with her legs then her toes some more then turns over to stroke him doggie again till he cums on the bottom of her lovely feet.
Next up is Loni in white lingerie and coffee RHT stockings! JB kisses her feet till she blows him for a bit then strokes him with her pretty size 5's and dark toenails! Standing up she slips her red platforms on and strokes him with her hand before taking her dress and panties off! Laying back she teases him a bit till he licks her pussy and fucks her a while as well. After a while she strokes him with her feet again till he cums all over the bottom of them.
Next up is Catalina in a white mini dress with black RHT stockings and high black heels! She slides her lovely size 7's and heels against his cock then slips the heels off to show off her red toenails as she quickly slides her feet all over his cock with her wrinkled nylons. Pulling them up she sits back and strokes him some more. Next she slips into black platform slides and strokes him with the heels as she talks dirty. Slipping them off she uses her toes again till she turns over and strokes him doggie till he cums on the bottom of her feet!
51 minutes, live sound, explicit action.
Size: 732 Mb Duration: 51 min Resolution: 640×480 Format video: MP4
Download link:
POINT OF VIEW FOOTJOBS 13 – JB Video – Ashley Fire, Loni, Catalina.mp4