Trans Girl Modestly Toasted Gives Her First Real Footjob – Joey's FeetGirls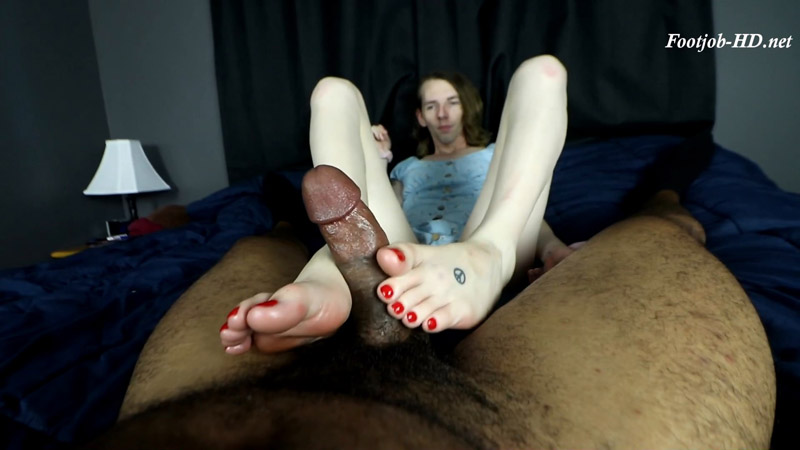 Trans Girl Modestly Toasted Gives Her First Real Footjob – Joey's FeetGirls
Kari is a trans woman that has been following me for a few years at least. She herself has a foot fetish and loves integrating feet into as much content as she can. We have been in contact for at least a couple years now but the long covid draught kept us from seeing each other for a long while.
Fast forward to this summer, I fly her out to see me. She wants to use her soft wrinkly soles on my cock and I won't deny her that opportunity.
The footjob starts off as normal, her red toes tease my cock and her soft soles wrap around my shaft. During the footjob, she becomes aroused and that's when things get a bit heated. She sits up close to me and places her feet on my abdomen, showing off her curvy arch and then grips both of our cocks together in her hand. Her cockhead swells up from the sensation of my flesh, my cock leaks from excitement.
Then she flips onto her side and traps my cock between her soles while jerking her girly pp. I'm on the edge as her legs shake from excitement causing her feet to vibrate on my rod. As soon as she starts cumming, I lose control as well. Seeing her cum shooting out causes my penis to erupt and we have an orgasm together.
Attention! Transsexual video
Size: 2 GiB Duration: 16 min Resolution: 1920×1080 Format video: MP4
Download link:
Trans Girl Modestly Toasted Gives Her First Real Footjob – Joey's FeetGirls Footjob-HD.net.mp4