Triple Footjob: @angelicas_tinytootz, @thegoddessmonica, @youlove_myfeet – Joey's FeetGirls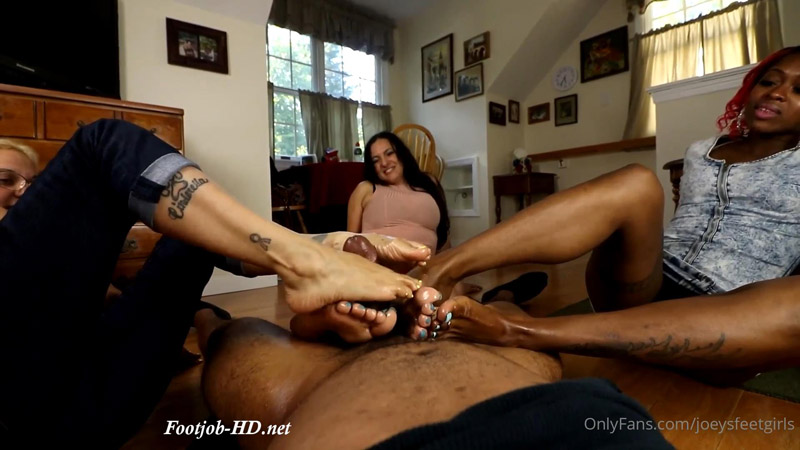 Triple Footjob: @angelicas_tinytootz, @thegoddessmonica, @youlove_myfeet – Joey's FeetGirls
My last trip to New York had Monica in my sights again. This time, she introduced me to @youlove_myfeet. I also brought Angelica along as well since she likes to keep me company while I travel. Turns out youlove is extremely photogenic. I shoot her and Monica outside together and the pics are coming out amazing. We come inside to shoot a video. Up until this moment I wasn't sure how I was gonna shoot. I originally planned to shoot Monica and Youlove together but since I had Angelica there tagging along, why not add her too? I record their soles for a couple mins so you can take in all three pairs before the action begins.
I lay down on the floor and the three of them work well together, switching off between each other taking turns with my cock. I try to set it up so each one has a specific position and a matching job. Monica on her belly to show a reverse footjob. Youlove on her side to show a side solejob, Angelica sitting to my left to fuck me with her arches. It works well and gives them all a couple different grip options when they footjob me.
The entire time I'm in heaven with all these feet on me. Youlove cheers Angelica along: "make him spill! Turn him into juice!!!"
I swap Monica and Youlove so I can get the reverse from her. Oh. My. God. She grips my dick and pumps it furiously and I hang on for as long as I can. My cock is rock hard and head is swollen as she pumps and pumps with her wrinkled soles eventually causing cum to squirt out of my head while Angelica shows off her wrinkly soles and Monica's toes fondle my balls.
Size: 1.2 GiB Duration: 16 min Resolution: 1920×1080 Format video: MP4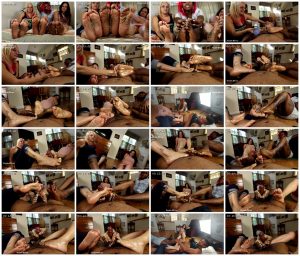 Download link:
Triple Footjob: @angelicas_tinytootz, @thegoddessmonica, @youlove_myfeet – Joey's FeetGirls.mp4