Blair Gives a Topless Footjob and Handjob – Joey's FeetGirls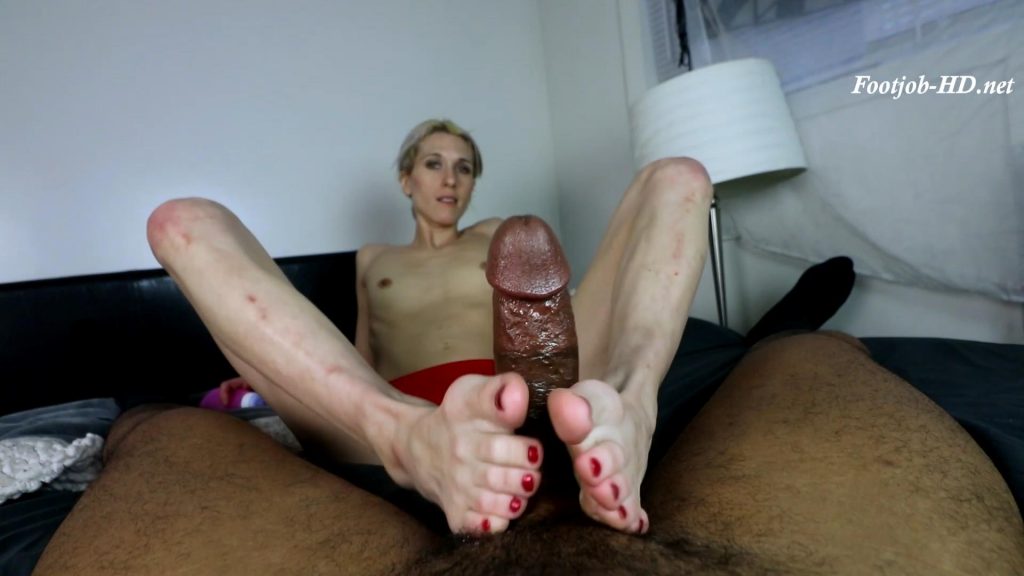 Blair Gives a Topless Footjob and Handjob – Joey's FeetGirls
I meet a lot of girls at the bar and lately I have been having pretty good luck picking them up for films.
It was snowing in Chicago when I met Blair. I'm on the northside of the city drinking when I stepped out to smoke a cigarette. Blair, tall and thin, comes out alone and after a moment or two she breaks the silence with a statement as a group of girls walk by.
"How can these girls wear open toe sandals outside with a foot of snow falling down?" she muses.
"I don't know" I reply. "But I wish it was summertime so I could see it more often"
I mention that I love feet and we both finish our cigarette. Most of the time this is when the girl I'm making small talk with splits ways and does her own thing. Blair continues our discussion and asks me what I'm drinking. We approach the bar together to order drinks when suddenly we are lost in conversation about fetishes and how I travel all over; I'm supposed to be in Miami as we speak but my flight got cancelled because of the snow!
Turns out shes a super freak and invites me over to shoot sometime. I waste no time and schedule something in the afternoon just a couple days later. Next thing you know I'm sitting on her couch while she's oiling up my dick. She compliments me more than once on how attractive she finds my manhood which gives me a good idea of what our future looks like.
She says she's done plenty of foot stuff before but she's still just a little awkward using her feet on me, not quite sure how I like it. You'll notice she keeps looking back at the door; you can't hear it over the sound of the music but we keep hearing footsteps outside on the porch passing her door, up and down the stairs, and on the porch above us. Sure as we get a knock at the door (which I have cut from the video).
Since we stop the film anyway, I decide that the bed might be a better place to shoot after all. I lay down and she strips off the dress she's wearing, exposing her tiny breasts. My dick had gone limp while setting up for recording in the bedroom but by the time she had sat down between my legs I was already hard again in anticipation of her touching me, her fat pussy clearly visible through her underwear. I have her try a few different techniques with her feet, some of which you can see in the preview. By far my favorite part is when I have her lay on her stomach so she can jerk me off with her face right in the camera and soles in the air behind her. It feels so good that I have her stop multiple times because I don't want this situation to end just yet. -if I decide to do more handjob only videos in the future just know that this clip was the catalyst!
Finally I have her give me a solejob while shes on her stomach. I make sure to get some footage of her ass but eventually her feet feel too good and a shot spurts out of my dick.
Size: 2.5 GiB Duration: 23 min Resolution: 1920×1080 Format video: MP4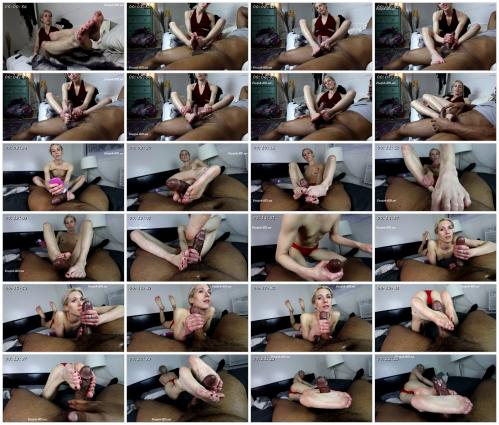 Download link:
Blair Gives a Topless Footjob and Handjob – Joey's FeetGirls.mp4